Details
Onda V919 Air Dual Boot Windows8 + Android Tablet Intel Bay Trail-T Z3736F 64GB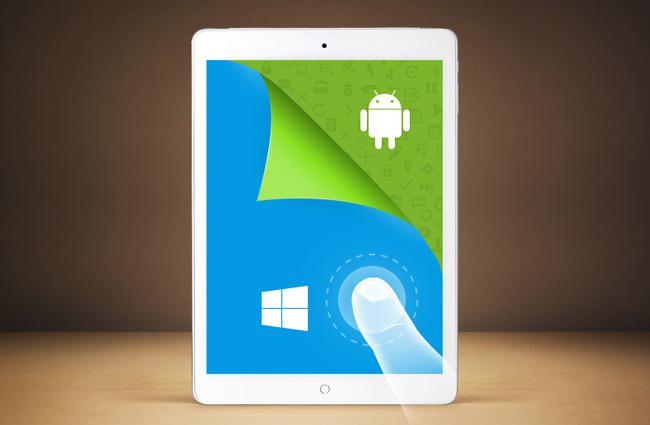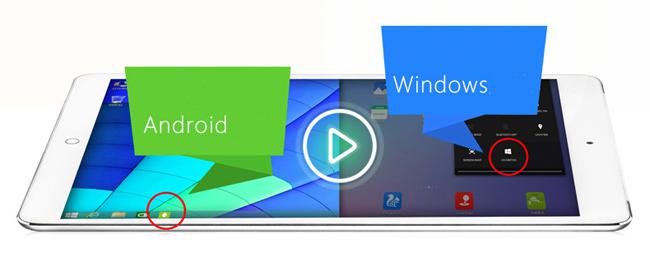 9.7 Inch Air Retina Screen
Onda V919 Air dual boot Tablet features 9.7 Inch Retina Screen with 2048*1536 resolution,Screen PPI up to 264,support 10 points touch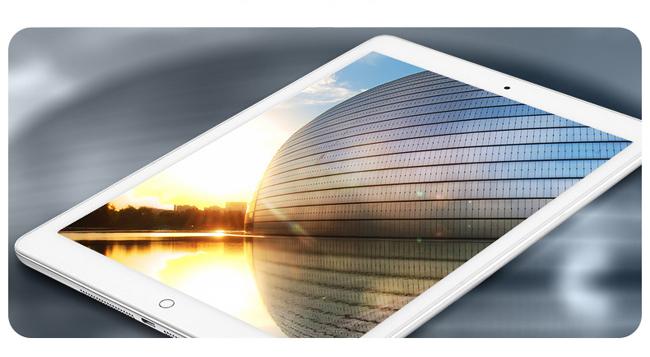 Unibody Technology
7.5mm Ultra-Narrow and 7.85 Ultra-thin Frame


Intel 64bit Quad Core Processor
The latest Intel 64bit Quad Core Processor,22nm,support Windows and Android Dual OS.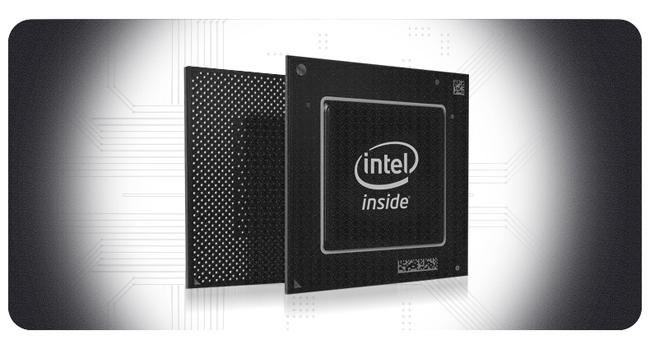 Gen7 GPU
Intel HD Graphics Gen7 GPU,support DirectX11 and Open GL3.2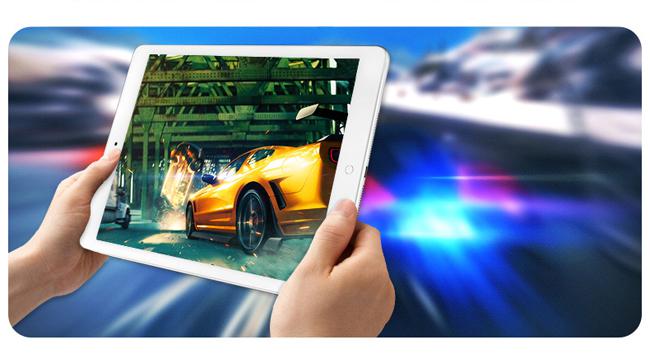 4K Ouput, WiDi
Support 4K(4096*2160) HD Video and support WiDi output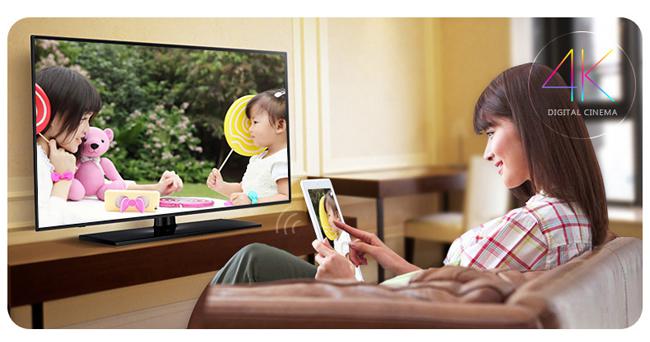 Bluetooth 4.0,OTG and HD Camera
Build in Bluetooth 4.0,support OTG function,support conect with external Mouse,Keyboard,Hard Disk and so on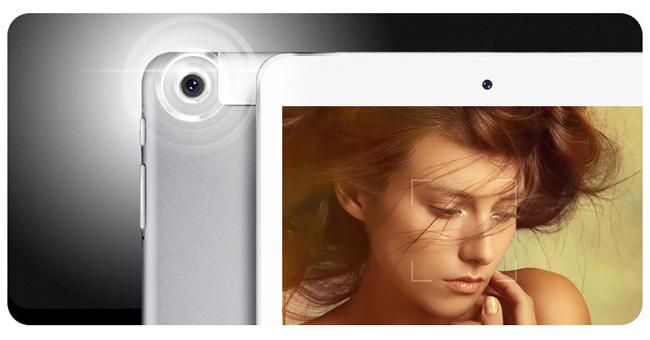 Onda V919 Air Dual Boot Features:
OS: Android 4.4 + Windows 8.1 with bing
CPU: Quad Core 64bit Intel BayTrail-T Z3736F Processor
GPU: Intel HD Graphics Gen7 for BayTrail
RAM    2GB,DDR3L
Storage   64GB eMMC
Extend Card     Support TF card up to 128GB extended
Bluetooth: Bluetooth 4.0
Shell Material     Metal
Screen: Capacitive Touchscreen, 2048*1536 High-resolution Screen
Size:   9.7 inch
Resolution:    2048*1536 Pixels
Visible Angle: 178°
Screen PPI:  264
Display:  Retina IPS Screen
Daul Camera:Front 0.3 Megapixels,Back 2.0 Megapixels Auto Foucus
Onda V919 Air Dual Boot other Details:
Video: 4K HD Videp Play with formats of MP4/3GP/3G2/RM/RMVB/ASF/FLAC/APE/MOV etc.
Gravity Sensor     Yes
Skype     Yes
Multi-Touch     Yes, 10 points touch
OTG:   Yes
Play Store:  Yes, built in
Email and Browser: Yes, built in
WIFI:    Yes, 802.11 b/g/n
Earphone Interface     3.5mm
Video     1080P, AVI/MOV/MP4/RMVB/FLV/MKV…
Music     MP3/WMA/WAV/APE/AAC/FLAC/OGG
Ebook     UMD, TXT, PDF, HTML, RTF, FB2…
Battery :   3.8V/8000mAh
Weight: 496g
Size:   240*170*7.85mm
Onda V919 Air Dual Boot contain:
1 x Onda V919 Air Dual Boot Windows8 + Android Tablet
1 x USB cable
1 x Charger
Payment:
* We accept PayPal,Western Union,Wired Transfer.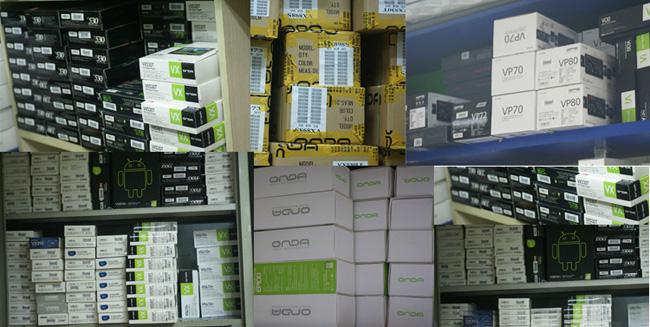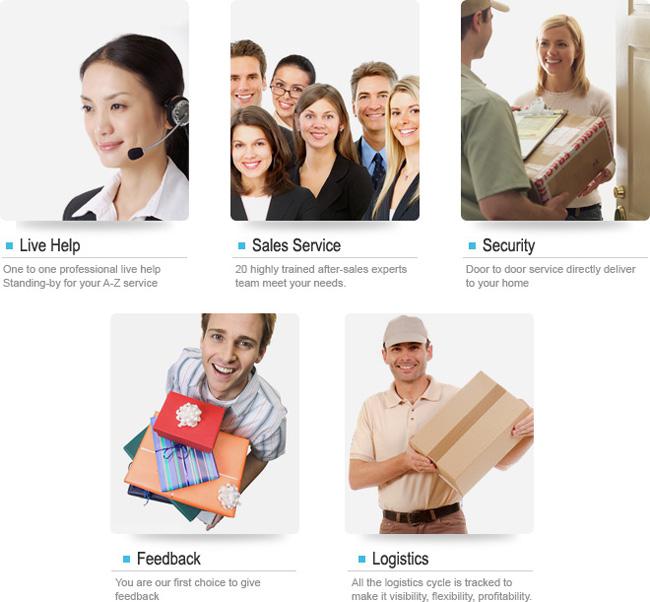 You may also be interested in the following product(s)
Regular Price: $189.90

Special Price: $159.90

Regular Price: $129.99

Special Price: $126.99
Questions on Onda V919 Air Dual Boot Windows8 + Android Tablet Intel Bay Trail-T Z3736F 64GB
Sort by

From Alain at

10/11/15 1:31 PM

From IVAN at

9/22/15 11:03 AM

From oscar at

9/20/15 5:49 PM

From Oscar at

8/11/15 5:02 AM

From pascal at

8/10/15 10:55 AM

Is an Office version is installed on this model?
A french version?
Delivery costs to canada?
Onda Tablet:
Thank you for your mail.
Onda V919 Air dual boot supports office, supports french and we supports delivery to Canada: Registered Airmail $26.00 and Express $27.33.

From Paulo at

7/30/15 9:46 AM

Hello
Which way is the fastest way to send it to Portugal and and wich way has the lowest risk of paying taxes?
How long would it take to ship the onda v919 to Portugal (europe)?
How much is the shipping costs?
Onda Tablet:
Thank you for your mail.
Express is fastest. We are not sure about your local customs, but we can help you print the package below value 50USD to avoid or reduce taxes. Please add to your shopping cart to check the shipping cost.


From Sanka at

7/25/15 4:52 AM

From Almora at

6/29/15 8:09 AM

From Gustavo de la Cruz at

6/15/15 1:36 PM

From Gustavo de la Cruz at

6/15/15 4:46 AM

From Chris at

6/14/15 9:18 AM

hi dear I'm living in Democratic Republic of Congo and want knowing how cost the shipping of Onda V919 3G Air dual boot from china till here and if possible to buy it by visa card?

thanks
Onda Tablet:
Thank you for your mail.
You can add to your shopping cart and check the detailed shipping cost.
We support to pay by Paypal and Bank Transfer.

From Gustavo at

6/14/15 7:39 AM

From Gustavo at

6/14/15 6:45 AM

Hello, brings Spanish language ? I can send the package by another method as SG post or China post , other than DHL or EMS to reduce the risk of paying taxes?
That adapter serves to send the signal to the TV ?
Thanks and regards.
Onda Tablet:
Thank you for your mail.
Onda V919 come with Spanish language.
We got your message and will send by registered airmail.

From Gustavo de la Cruz at

6/14/15 6:17 AM

Hello, brings Spanish language ? I can send the package by another method as SG post or China post , other than DHL or EMS to reduce the risk of paying taxes?
That adapter serves to send the signal to the TV ?
Thanks and regards.
Onda Tablet:
Thank you for your mail.
We got your message and will send you by Register Airmail.

From marco m at

6/13/15 4:49 PM

From Sergio at

6/7/15 6:33 PM

From Daniel at

6/5/15 10:56 AM

From Mike at

5/30/15 7:46 PM

What's the difference between this Onda V919 Air Dual Boot Windows8 + Android Tablet Intel Bay Trail-T Z3736F 64GB and Onda V919 3G Air Windows8 + Android Retina Screen Dual Boot Tablet PC 64GB Are they the same?
Onda Tablet:
Thank you for your mail.
Onda V919 3G Air Tablet have build in 3G and not build in 3G version.

From JPAllas at

5/27/15 9:59 AM

From hasan at

5/26/15 1:00 PM

I am from bangladsh and i wanna buy this tab but payment options like paypal master card vis these are not available. How can i buy?(maybe union pay and western union is available).Pls let me know quick before i change my mind.
Onda Tablet:
Thank you for your mail.
We have Onda V919 Air Tablet in stock and ready to send,We support Bank Trasnfer.

From hasan at

5/26/15 12:59 PM

I am from bangladsh and i wanna buy this tab but payment options like paypal master card vis these are not available. How can i buy?(maybe union pay and western union is available).Pls let me know quick before i change my mind.
Onda Tablet:
Thank you for your mail.
We are Onda Tablet Online Store,we support shipping to Bangladesh and we support Bank Transfer.

From fabrizio at

5/16/15 4:50 AM

From Eugeni at

5/14/15 1:10 PM

Hi!Before sending you check tablets?What to do if you receive a defective merchandise?
Onda Tablet:
Thank you for your mail.
We are Onda Tablet online store,all our Onda Tablet come with 12 months warranty,we will have fully test before we send,any DOA tabelts,we will change a new one for you.

From aljosa at

5/14/15 10:56 AM

From kw at

5/12/15 6:40 PM

From Christian at

5/8/15 5:13 AM

From Rinto at

5/4/15 7:30 AM

From Rinto at

5/4/15 6:38 AM

From Gilberto at

5/3/15 9:49 PM

From Takashi at

5/1/15 7:56 AM

From Takashi at

5/1/15 7:54 AM

From Takashi at

5/1/15 5:24 AM

From Rafael at

4/30/15 1:20 PM

How can I keep Windows and remove Android OS or viceverse that way full space can be dedicate to one or the other OS.

Thanks.
Onda Tablet:
Thank you for your mail.
Onda V919 3G AIr Tablet pre-installed with Dual OS,Android and Windows OS,we will release the firmware ROM on our website.

From Josh at

4/29/15 8:16 AM

A few questions
1. Does this tablet charge well (actually charging) even when you're using it?
2. How many hours does the full charge last?

Onda Tablet:
Thank you for your mail.
Onda V919 Air Dual Boot Tablet support charging when using and around 2 hours charging time.

From Richard at

4/28/15 8:38 PM

From Rendal at

4/28/15 5:24 PM

instead of online mail order, i wonder if any retailer or direct distributor carry Onda tablets in Toronto, Ontario Canada? I prefer physical face to face old school transaction. If so, will I be able to buy it at any specific gadget store in Asian Pacific Mall? Thanks.
Onda Tablet:
Thank you for your mail.
We are Onda online shop, we support worldwide shipping.
We only provide genuine and brand new Onda tablet, any question please conatct us.

From Gary at

4/26/15 3:54 AM

From lori at

4/24/15 8:35 AM

what is the difference about this tablet and the Onda V919 3G Air Windows8 + Android Retina Screen Dual Boot Tablet PC 64GB


How long would it take to ship the onda v919 to austria(europe)
Onda Tablet:
Thank you for your mail.
Onda V919 Air do not support SIM card, while Onda V919 3G support 3G network.
It usually takes 3-5 business days to Austria.

From lemon at

4/23/15 6:27 AM

From Erik at

4/21/15 6:16 PM

From Rich at

4/20/15 8:08 PM

From malka lakhan at

4/15/15 12:37 PM

Hey,
I want to know if the courier service is reliable. And what are the payment methods, is cash on delivery an option? Cause it is most feasible and sounds reliable.
In case I dont like the product, or it is defected, can it be returned?
Onda Tablet:
Thank you for your mail.
All our package come with tracking number, we will follow up for you.
We support to pay by Paypal and Bank Transfer, do not support cash on delivery.
All our Onda Tablets come with 12 months warranty, any question please contact us.

From Bakóczy at

4/14/15 3:19 PM

From Bakóczy at

4/14/15 6:55 AM

From Bakóczy László at

4/14/15 5:42 AM
Ask Your Own Question
Customer Reviews
Thank you very much! Good product. Review by

Angela

Thank you very much! Good product. The only point is that the battery isn't enough for such a game fans like me. (Posted on 7/14/15)