Details
Onda V975M Quad Core is the latest Amlogic M802 Quad Core Android Tablet. Onda V975M features Amlogic M802 Cortex A9 28 Nanometer Process Technology CPU and Mali 450 MP4 Octa Core GPU.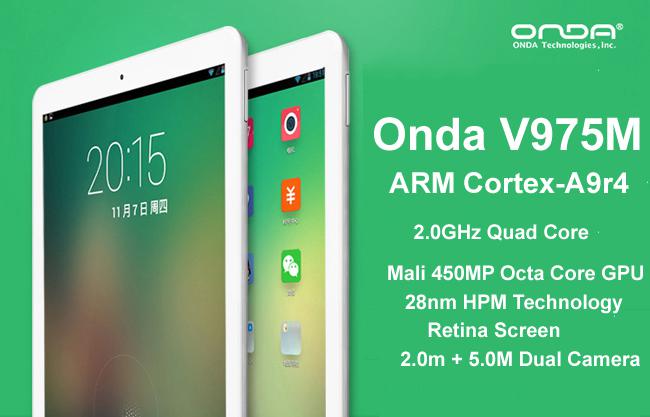 Super Quad Core Processor
Onda V975M Quad Core features Amlogic M802 Quad Core Processor,with the latest ARM Cortex A9r4,Single Core CPU speed up to 2.0GHz.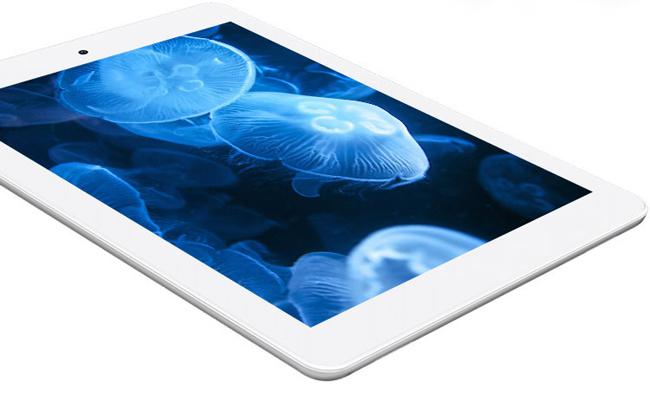 Octa Core GPU
Onda V975M Tablet features Mali 450MP Octa Core GPU,with 8 Core 600MHz.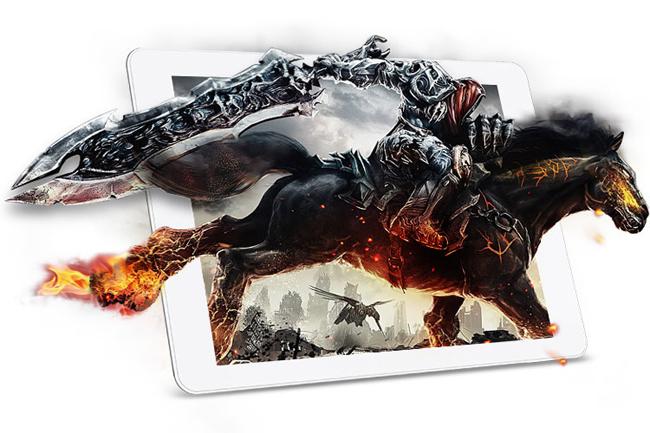 TSMC 28nm HPM Technology
With the latest 28nm HPM technology,Amlogic M802 Processor and Mali 450MP Octa Core,Antutu Test Over 30000


64bit Dual Channel 2GB DDR3 16GB Storage
Onda V975M RAM update to 2GB 64bit Dual Channel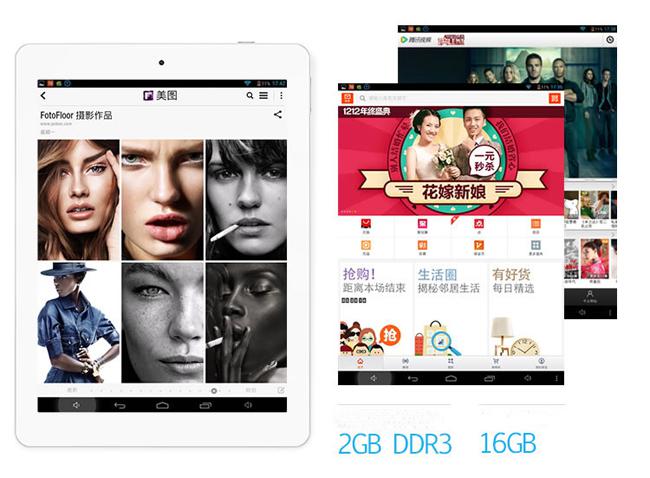 4:3 Retina Screen
Onda V975m Quad Core features 2048*1536 Screen PPi over 264 Retina Screen,310W Pixel resolution the same as iPad 4.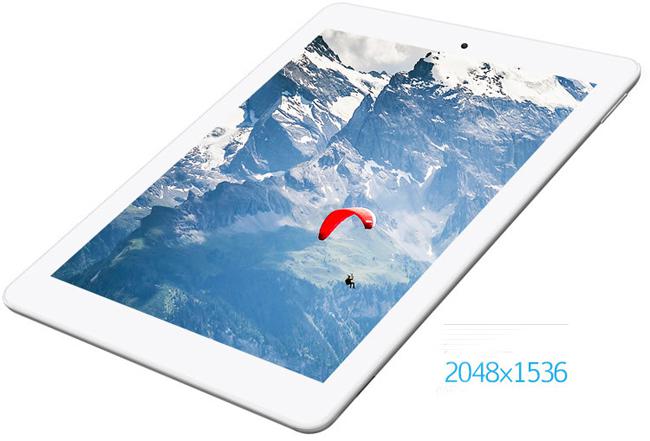 Mini 9.7 Inch Tablet
With 11.8mm Ultra-Narrow Frame and 8.3mm Ultra-thin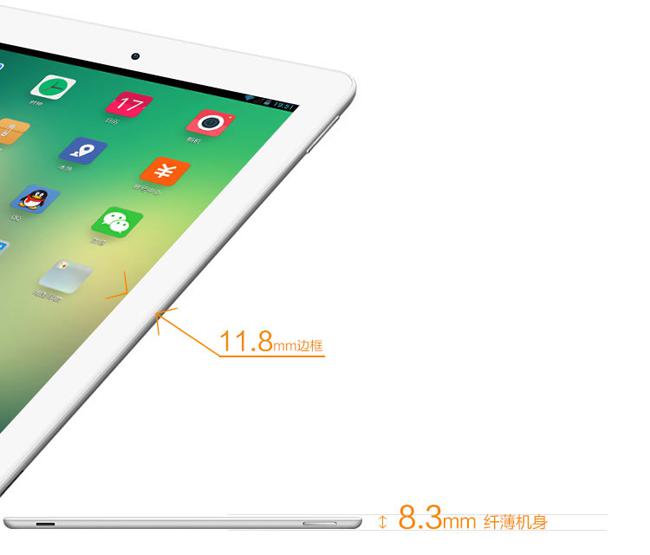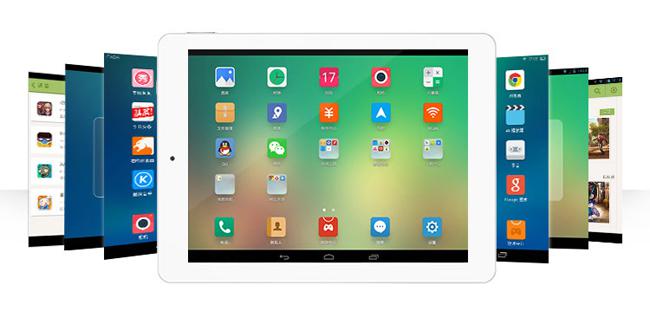 HD Dual Camera
Onda V975m features 5.0M HD Back Camera the same as iPhone OV Camera.Front 2.0M HD Camera.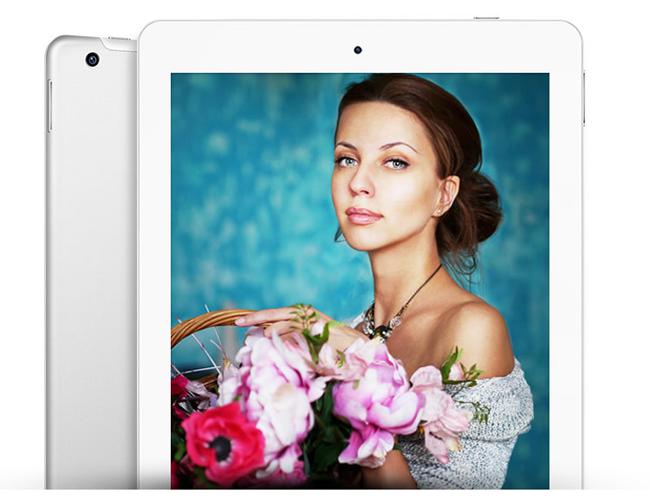 Camera Photos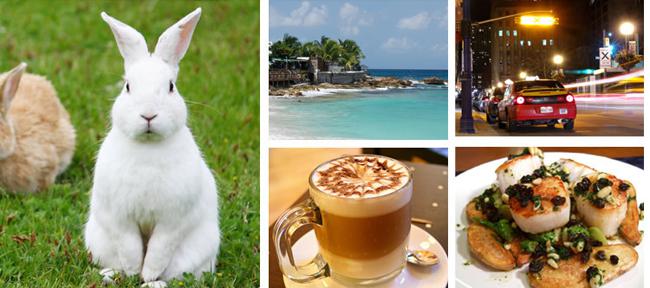 Onda V975M Quad Core Tablet Features:
OS: Android 4.3
CPU: Quad Core Amlogic M802 Cortex A9r4 28nm 2.0GHz
GPU: Mali 450 Octa Core GPU
RAM    2GB,DDR3
Storage   16GB
Bluetooth: Support
Shell Material     Metal
Screen: Capacitive Touchscreen, 2048*1536 High-resolution Screen
Size:   9.7 inch
Resolution:    2048*1536 Pixels
Visible Angle: 178°
Screen PPI:  264
Display:  Retina IPS Screen
Daul Camera:Front 2.0 Megapixels,Back 5.0 Megapixels Auto Foucus (iPhone 4 OV Camera)

Onda V975M Quad Core Tablet PC other Details:
Video: 4K HD Videp Play with formats of MP4/3GP/3G2/RM/RMVB/ASF/FLAC/APE/MOV etc.
Gravity Sensor     Yes
Skype     Yes
Multi-Touch     Yes, 10 points touch
OTG:   Yes
Play Store:  Yes, built in
Extend Card     Support TF card up to 32GB extended
Email and Browser: Yes, built in
WIFI:    Yes, 802.11 b/g/n
3G :    Not built in, support external 3G dongle
Earphone Interface     3.5mm
Video     1080P, AVI/MOV/MP4/RMVB/FLV/MKV…
Music     MP3/WMA/WAV/APE/AAC/FLAC/OGG
Ebook     UMD, TXT, PDF, HTML, RTF, FB2…
Work Time: Up to 8~10 hours
Battery :  8500 mAh
Onda V975M Quad Core Weight: 539g

Onda V975M Quad Core Size:   242*179*8.3mm

Onda V975M Quad Core Tablet contain:
1 x Onda V975M Tablet PC
1 x USB cable
1 x Charger
Payment:
* We accept PayPal,Western Union,Wired Transfer.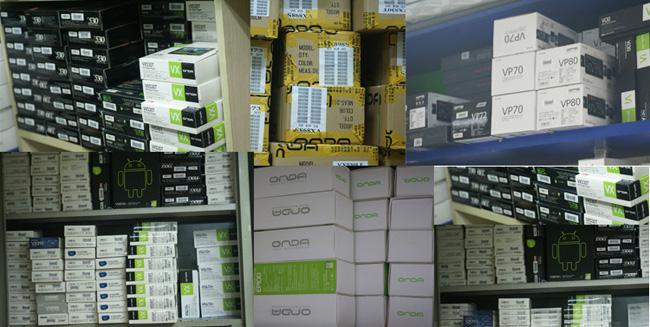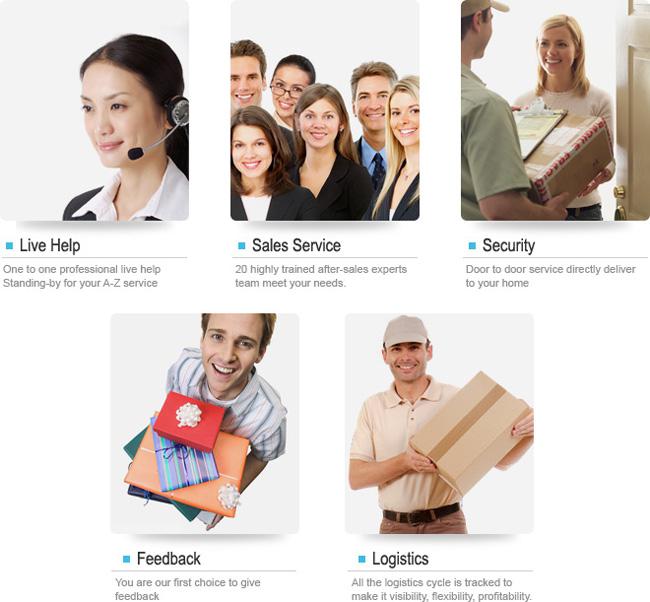 You may also be interested in the following product(s)
Regular Price: $219.90

Special Price: $129.90

Regular Price: $139.90

Special Price: $79.90
Questions on Onda V975M Quad Core 2.0GHz 9.7 Inch Retina Screen Android Tablet 16GB White
Sort by

From John Savo at

2/18/15 2:19 PM

From Rachid at

2/12/15 8:59 AM

From Arjan at

2/9/15 2:43 PM

From Ichigo at

2/2/15 2:45 AM

I have recievde my onda tablet but I have 2 problems:

* No light while charging so I don't know if it is charging or not.
* No english manual ( Can you send this to me please).
Onda Tablet:
Thank you for your mail.
We will send the English Manual to you,please check your mail.

From Wally at

1/26/15 1:58 AM

From Denis at

1/23/15 11:10 PM

I received your Onda tablet today but I did not accept it since it came with a broken display. I'm very very disappointed in your packaging, What now? Order #660023185
Onda Tablet:
Thank you for your mail.
Can you take some pictures for us? Our sale service will contact you soon.

From PAVEL at

1/20/15 10:29 AM

From pcunit at

1/13/15 11:49 PM

From Jorge at

1/11/15 11:36 AM

From JLDean at

1/11/15 8:23 PM

From Saul at

1/10/15 9:29 AM

From omar at

1/7/15 4:22 AM

From omar at

1/7/15 2:59 AM

I want to ask about the storage capacity , does the 16 gb storage devided into two seperated storages (internal , and any other storage) or the 16gb existed as a whole one storage
Onda Tablet:
Thank you for your mail.
Onda V975m Tablet build in RAM 2GB and ROM 16GB,please install apps to your ROM.

From omar at

1/7/15 1:51 AM

How can i benefit from my ship and ship account to reduce shipping cost
Onda Tablet:
Thank you for your mail.
We support shipping to Saudi Arabia and the shipping cost depend on your shipping address.
Please add to your shopping cart and check the shipping cost.

From babbis at

1/6/15 6:08 AM

From omar at

1/4/15 12:57 PM

From omar at

1/4/15 12:54 PM

From manu at

1/2/15 9:43 AM

From Occam at

1/1/15 8:55 AM

From Ahsan Muhammad at

12/29/14 5:00 PM

Dear sir,
I would like to buy Onda V975M Quad Core 2.0GHz 9.7 Inch Retina Screen Android Tablet 16GB White. Kindly let me know about delivery charges to Lahore,Pakistan. Does this table will work in pakistan.? I will wait for your reply then i will send you money by western union or moneygram.
Best regards.
Ahsan Muhammad

Onda Tablet:
Thank you for your mail.
We are Onda Tablet Online Store,we support shipping to Pakistan and the shipping cost around 26USD.
We support Paypal and Bank Transfer.

From PANKEK at

12/26/14 2:17 AM

From john at

12/26/14 5:00 PM

From Jaime Garro Alvarado at

12/24/14 7:37 AM

When youre going to upload the english manual in this web site? i need to use the micro hdmi cable and its not working please help me. The intructions manual that comes with the tablet is in chinese.
Onda Tablet:
Thank you for your mail.
We will email the English Manual to you,please check your mail.

From Paulo at

12/24/14 5:42 AM

From Aleksey at

12/21/14 4:50 AM

Hi!
I just received this great tablet. It's really good and I'm very happy with it. But I have one question:
I can't see USB flash drive connected by the OTG cable. How can I turn it on?

Thank you!
Onda Tablet:
Thank you for your mail.
Onda V975m Tablet support OTG function,you can connect with external USB Flash.

From Maury at

12/15/14 8:04 AM

Tablet Onda v975m. ord. num. 62678066114722

Great table but for my mistake, because a fall, I broke the low corner glass.
Where can I find a new one to replace it ?
The touch screen works well and there are no broken pixels or wrong video lines.

Best Regards.
Maury
Onda Tablet:

Thank you for your mail.
Can you take some pictures for us?We will check it for you soon.


How do I send pictures ??

Onda Tablet:
Thank you for your mail.
Our after sale service will contact you,any question please tell us.

From Maury at

12/15/14 5:06 AM

From Natalie at

12/14/14 4:08 AM

I bought this tablet about 4 month ago..and its battery has been fully discharged by mistake and now i can boot it..it just a black screen and when i plug a charger still nothing changes..please help me?How can I fix it?I tried also to hold down a sound button+ on/off button but it doesnt help...
Onda Tablet:
Thank you for your mail.
Can you tell us your order number?We will contact you soon.

From Jose Luis Reyes at

12/14/14 9:39 PM

1) How much cost shipping to México, Sinaloa?
2) Which version of Tablet are you sending? 1, 2, 3 or 4?
3) does it support HDMI?
Onda Tablet:
Thank you for your mail.
The shipping cost to Mexico is 26.0USD and we will send the latest Version for you.
Onda V975m Tablet support HDMI output.

From WQ at

12/13/14 6:16 PM

From Sophia Frohmuth at

12/10/14 5:11 PM

Dear Team ,
I am a photo - blogger and writing since 2008 on www.pixelsophie.de articles about photography and everything that inspires me . I would like to ask politely in this way , if you would be interested in a cooperation? I can offer you an extensive product testing , but I am open to your ideas as well . Special interest I 'm called . OTG -capable tablets , as hereby possibly can control a digital SLR camera. My goal with this product test is to find a cheap tablet , which diehnt as a screen for a camera .

I would really appreciate it if is any cooperation would result. Please excuse my poor English , I write usually in German .

Thank you very much for your time ,
Sophia Frohmuth
Onda Tablet:
Thank you for your mail.
We will contact you soon.

From Andrey at

12/9/14 7:27 PM

From Yves Legault at

12/6/14 9:29 AM

Good day,

I've tried submitting my comment at the following (http://www.onda-tablet.com/news/onda-v975m-android-4-4-2-rom-download/) but it kept telling me "Cannot open socket" so i'm trying here.

I've Just received my 2 new Onda V975M tablets and would appreciate to update from OS 4.3 to 4.4.2 so that they would match my Samsung Galaxy S4 OS and menus.

The link provided (http://pan.baidu.com/s/1i3l3RMl) seem to be an installer to access a cloud or something for the ROM download but it's all Chinese language and looks like it would require me to register.

Any ways to get that ROM update directly from your website as many other well know brand such as Samsung, Sony, etc... Or from an English or French cloud system?

Thanks
Onda Tablet:
Thank you for your mail.
We will release the latest firmware update guide on our website,please check our website.

From Anatoly at

12/4/14 1:52 AM

From Mauro at

12/3/14 2:18 AM

From Lexan32 at

12/3/14 1:23 AM

From Hamid at

12/2/14 9:03 PM

Hello Dear Sir/Madam
1. I am wondering if Onda has shipping to Iran ? Do you have any branches in Iran where I can buy ? Thanks
Onda Tablet:
Thank you for your mail.
We support shipping to Iran and we do not have reseller in Iran.
You will got your package in 3 business days by Express.

From Tom at

11/29/14 1:39 AM

Will onda be releasing tablets with ssd storage instead of Emmc? And is onda planning on releasing pressure sensitive stylus?
Onda Tablet:
Thank you for your mail.
We are testing the latest SSD Model.when we got the latest message,we will update on our website.

From Saul at

11/28/14 1:45 PM

From janne at

11/27/14 12:48 PM

From mauro at

11/27/14 6:00 AM

From DocBelin at

11/25/14 2:55 AM

From Nassim Mehdi at

11/25/14 12:39 AM

Hello,

I've been having some problems with my v975. Internet has been disconnecting and the network adapter disapearring. It would reappear after a restart.

I've tried to disable and reable the network adapter but now it disappearred for good. I've tried to a windows recovery which deleted all my apps but the adapter is still missing.

Please help me as this is very important for my work.

Thank you

Nassim Mehdi
Onda Tablet:
Thank you for your mail.
Can you take some pictures for us?We will check it for yousoon.Maybe you need update the firmware.

From DocBelin at

11/25/14 10:13 PM

From Anthony at

11/23/14 2:51 PM

From txema salazar at

11/21/14 5:41 AM

From txema salazar at

11/21/14 5:37 AM

I need the user manual in english. The tablet Onda V975M that I bought comes with the manual in Chinese. You can, please, send it to my e-mail in pdf format.
Thank you
Onda Tablet:
Thank you for your mail.
We will release the English Manual on our website,please check our mail.

From Mitesh Patel at

11/21/14 2:33 AM

i puchased it 6 months ago. now, it is not working at all. the logo of ONDA is stuck in start up and all time i can saw only onda logo.
Mitesh Patel
+91 8000303055
Onda Tablet:
Thank you for your mail.
Can you tell us your order number?Our after sale service will contact you soon.

From Gary Woodcock at

11/16/14 10:47 PM

From Juan Carlos at

11/14/14 1:08 PM

From onda user at

11/14/14 9:51 AM

My order number is 660011911.
My tablet stopped working, all this began with freezes and flickering lines in the display. I tried to reinstall the official ROM then using Onda's original files which led to that unbootable tab.Where should I send bricked tab to be repaired?
Please help.

Onda Tablet:
Thank you for your mail.
We will email the firmware ROM to you,please update the firmware.

From andrew at

11/14/14 2:53 AM

From andrew at

11/14/14 10:59 PM

From maury at

11/12/14 3:37 AM

Tablet Onda v975m. ord. num. 62678066114722

Great table but for my mistake, because a fall, I broke the low corner glass.
Where can I find a new one to replace it ?
The touch screen works well and there are no broken pixels or wrong video lines.

Best Regards.
Maury
Onda Tablet:
Thank you for your mail.
Can you take some pictures for us?We will check it for you soon.

From manos at

11/12/14 1:21 AM

From Shmal at

11/12/14 6:29 PM

From Shmal at

11/12/14 6:26 PM

How can I track the delivery of the goods after payment?
You deliver the goods to the specified address me by courier?
And one more question. Can I pay via bank if yes then I need an account number, send it to me by email.
Onda Tablet:
Thank you for your mail.
All our package come with tracking number and we supprot Paypal and Bank Transfer.

From opk at

11/11/14 12:31 PM

My order number is 660011911.
My tablet stopped working, all this began with freezes and flickering lines in the display. I tried to reinstall the official ROM then using Onda's original files which led to that unbootable tab.Where should I send bricked tab to be repaired?
Please help.
Onda Tablet:
Thank you for your mail.
Please send back to us and we will change a new one for you.

From Shmal at

11/11/14 12:33 AM

From jose at

11/10/14 9:03 AM
Ask Your Own Question
Customer Reviews
Be cautious Review by

NoHil

Hangs up constantly... (Posted on 11/29/14)

Very Good Review by

panagiotis

Fast shipping, excellent tablet ......... (Posted on 8/4/14)

Fit and finish, screen, touch and sound is great but...... Review by

blueaarow

There is a problem, Netflix plays video and audio real choppy and is un-watchable. However other HD videos such as YouTube play fine. Bloated with Chinese apps you can't read or want and you can not erase them. The Onda launch screen menu is horrendously bad. Download Nova launcher app to replace it. Everything else is top notch on this tablet, like good sound and picture and the case and screen is well made. And very smooth operation except when doing online downloads and then playing other apps at the same time. Not too good at multitasking. Onda We need a firmware update ASAP to resolve these issues, otherwise a great tablet !!! Thanks' (Posted on 6/15/14)

excelent product Review by

nikos

Good product for very good price!!!!!
Fast ship and good service.
the screen is excelent ,
its perfect tablet. (Posted on 6/10/14)

Not what is reported Review by

yogesh

I bought it by going through specifications but unfortunately the specifications didn't match when I checked it at my end http://i.imgur.com/8dqzyKV.jpg
It 's processor was found to be different and speed is not 2.0 Ghz as reported rather it was around 1.6.
Also it's sensors were found to be missing
http://i.imgur.com/TOfeEiJ.jpg
I now repent of having it and it's shear wastage of money . (Posted on 5/23/14)

Do not buy this tablet Review by

Rosario

Good hardware but very bad rom! (Posted on 5/20/14)

The firmware update procedure: Review by

Skybax

The firmware update procedure:(Android 4.4.2)

1. Download the firmware package, extract from several files below:
update.zip
aml_autoscript
factory_update_param.aml
recovery.img
u-boot.bin

2. Prepare a TF card capacity of 16GB or less, then the TF card on the computer is formatted as FAT or FAT32 format

3. Please unzip all the files copied out front to the TF card

4. Tablet PC in the off state, insert TF card。
Reminded:
If this [next] fast boot option, do not check at shutdown, or can not brush. Shutdown menu on your tablet Without this option, you can ignore this step

5. Press and hold the volume + tablet key, then press the power button until the display a small green robot on your tablet screen, release the button, flat start automatic updates

6. Tablet PC boot time again until the upgrade is completed



Precautions:

1. Tablet PC is recommended in more than 60% of electricity to prevent power shortage caused by a failed upgrade

2. Please backup important personal data, preventing the file is missing

3. After the little green robot disappeared, probably about 1-2 minutes to appear black updated interface, then please be patient, do not do other operations

4. If after the little green robot disappeared, brush machine interface does not appear, there may be no recognition to the TF card, TF card replaces a try.
(Posted on 5/20/14)

Mahtava ja halpa Review by

Jussi

Yllättävän nopea ja näyttö todella hyvä hintaisekseen. Skype temppuilee, mutta muuten kaikki toimii ok. (Posted on 4/9/14)

Super!!! Review by

Leonid

Excellent seller, good quality! Спасибо! :) (Posted on 4/5/14)

Awesome but ROM 4.4.2 drawns battery!! Review by

FLI

Hello,

The performance of this tablet is awesome, and its screen its incredible. I tried rom 4.4.2 but it drawns the battery, so I came back to 4.3.9. Hope this is solved soon.


Regards!! (Posted on 4/5/14)

Good product , unprofessional service and support Review by

Maks

I've got the tablet , and it met my expectations .
However , during the order I've PAID an additional money in order to get the device rooted .

But it wasn't done. I'VE GOT UNROOTED DEVICE.

The answer that I've got from support was that device was rooted, but the didn't asked from me any log or other files in order to prove their words .

So 3 Stars for good device but unprofessional support

(Posted on 4/4/14)

Excelent!! Review by

Ignatios

Excelent product in a very good price.

I am very satisfied.
The tablet has very good quality and it is very fast.

Also the seller is great, gives all the informations needed.

The shiping is fast.

I Would buy again. (Posted on 4/3/14)

Excelente!!! Review by

Lucia

El lunes recibimos nuestra tablet, venia súper bien protegida, funciona de 10, es rápida y eficiente y la batería dura muchísimo, 7-horas en un uso normal. Le quite todos los programas chinos y sin problemas. La calidad de la imagen es estupenda, el WiFi sin ningún defecto lo pillo muy bien en toda la casa. Muy ligera y fina la recomiendo 100%. Sin ningún fallo por ahora. Felicitaciones por este gran trabajo!!!!! (Posted on 3/27/14)

All perfect Review by

Ahmed

Perfect tablet, why pay the publicity of other brands. Well protected package (sent by singapore post). I would buy another soon. Thank you (Posted on 3/25/14)

Very good tablet! :) Review by

Mitja

I'm using this Onda tablet already few weeks. I'm very satisfied, it's very beautiful, screen is very good, playing 3D games is really a joy. There's also a lot of updates for this tablet (you can follow the links here in NEWS or check out here http://onda.cn/Support/Default.aspx as i do and update tablet in a few easy steps). For me is also very important battery life, which is very very good. Here is also a link to Smart cover case I found on eBay: http://r.ebay.com/WwKKV6. I'm waiting for one so I hope it's gonna be cool :) (Posted on 3/24/14)

Ya dimat rossiane Review by

From russia help me

vdrug kto nubyd uz russii uvudit daite obshee vpesgatleniya moi skype aw12345678935 dobavlaytes u razkazuvaite (Posted on 3/22/14)

Wonderfull product Review by

Andrea

Good product for good price.Onda v975m is fantastic !!!!
Fast ship and good service.
I like it,thanks onda tablet.
(Posted on 3/11/14)

excellent ... Review by

Spiros

Very nice tablet, fast service .. (Posted on 3/6/14)

Onda V975M Review by

Sandy

Very good product.Fast ship and good service. I like it,thanks onda tablet. (Posted on 2/24/14)

Rooted ? Review by

Anoos

Is it rooted ? (Posted on 2/20/14)

Can it run asphalt 8? Review by

anoos

Is it able to run asphalt8 ? (Posted on 2/20/14)

Why to give 5 stars on question? Review by

BoBo

People are you crazy?
This is review not Q&A (Posted on 1/26/14)

superbe tablette Review by

melanol66

Bonjour onda-tablet,
J'ai bien reçu aujourd'hui ma v975M. Superbe.tout simplement.
Fluide, performante (29875 sur antutu), une finition superbe.
Bref à recommander d'autant que l'emballage était super soigné et la tablette très très bien protégé.
Bravo onda-tablet et merci. Je pense repasser rapidement une commande. (Posted on 1/21/14)

How to purchase it, as I am living in Bangladesh? Review by

Bulbul

How to purchase it, as I am living in Bangladesh?
(Posted on 1/17/14)

Good product Review by

Szymon

Good product for good price.Onda v975m is speed android device. 4quad core processor amlogic work really speed.Android work smoothly... (Posted on 1/15/14)

how do you upgrade the firmware to kitkat? Review by

jojo

great device - but missing 4K player - I've tried to upgrade using PhoenixSuit any idea's? (Posted on 1/14/14)

Udate 2 Review by

Peter

Onda contacted me with instructions, now all is 100%. Kudos to Onda, but the English guide is yet to come. Now I can get one each for the wife and son. (Posted on 1/14/14)

V975M Update Review by

Peter

I posted a review the day it arrived (below)but now I know a lot more about it. The biggest gripe is no English guide, it's a very complex tablet and even after 3 days of playing with it I'm still finding lots more good stuff, with the number of people who speak English world wide you would think that would be a priority. If you buy one get it rooted (they will do it for $3.99) so that you can remove all the 100% Chinese apps. First off the camera only connects now and again, also, the installed Flash Player won't play streaming video correctly, i.e. Youtube, and it can't be updated. Two apps I installed did not put icons on the desktop, could be the apps? or not. Don't install Firefox because it's a Beta and has big problems, Chrome is not compatible. The coming firmware upgrade to 4.4 KitKat might help with some glitches but who knows. There is a tiny hole next to the power connection which looks like a reset hole but it didn't seem to do anything when I tried. I still give it 5 stars because it's 99% perfect and the customer support is second to none, delivery is fast (Canada in four days) and maybe it's just mine that has the problems ( just my luck), if not I'm sure they will sort it out. Other things are a mystery but English info will sort them out I'm sure. As a computer nerd I tried hard to sort these things out before I wrote this, but could not. (Posted on 1/13/14)

exceptional Review by

giuseppe

Tablet perfect, fast shipping, thanks for everything. (Posted on 1/13/14)

exceptional Review by

giuseppe

Tablet perfect, fast shipping, thank you for the professionalism and courtesy. (Posted on 1/13/14)

Absolutely Wonderful Review by

Peter

For the money it can't be beaten, my friends are sorry they paid so much for the ipad air now. It does everything perfectly, but an English user manual would be nice. (Posted on 1/10/14)

good device :) Review by

Seiki

Onda v975m is a good quality high speed amlogic processor with 2GB of RAM memory. Its good option for demanding people, good tablet for good price. (Posted on 1/10/14)

great tablet Review by

nick

Great tablet but a few gremlins hope this will be sorted with 4.4 update rumored Jan 12 but at moment says sever down contact server agent ? (Posted on 1/9/14)

why leave a review when its a question?? Review by

suzook

Whybdo people posts questions in the review area??? Wtf? (Posted on 1/9/14)

very good Review by

wanka555

Fast shipping, really good Item ...everything very professional!!!

Thank you from Germany ;-) (Posted on 1/8/14)

missing bluetooth a real dealbreaker Review by

Philip

Really great to see such a cool thin tablet with the new m802 processor and high resolution.

the lack of bluetooth makes this tablet much less attractive however.

best wishes (Posted on 1/8/14)

onda v975m Review by

nickname

I can not wait to get this tablet. (Posted on 1/7/14)

warranty Review by

rok111

what is the warranty of the tablet? cant find the info. (Posted on 12/18/13)

Excellent Review by

Endy

It's very good tablet...
But I want to know about the RAM.
It's 2 Gb or 1 Gb? (Posted on 12/4/13)