Details
Onda V972 Quad Core is the first Allwinner A31 Quad Core Onda Android Tablet.Onda V972 Quad Core adopt A31 Quad Core CPU and 8 Core Power VR SGX544MP2 GPU,can perfect support 3D Games.Onda V972 configured a 9.7 inch Retina IPS screen with 2048*1536 High-resolution.What's more, Onda V972 build in Apple iPhone 4 OV Camera that insure consumers a nice experience with it.
Onda V972 Quad Core Features:
OS:  Android 4.1.1 support Android 4.2 Update
CPU: AllWinner A31 Quad Core
GPU: Power VR SGX544MP2 8 Core 1MB L2 Cache
RAM     2GB,DDR3
Storage 16GB
Shell Material    Aluminum shell
Screen: Capacitive Touchscreen, 2048*1536 High-resolution Screen
Size:   9.7 inch
Resolution:  2048*1536 IPS
Screen PPI:264
Gravity Sensor:   Yes
Visible Angle: 179°
Display:  Retina IPS
Camera     Daul Camera Apple iPhone 4 OV Camera,Back 5.0M with Auto Focus,Front 2.0M

Onda V972 Quad Core Tablet PC Details:
Brand    Onda
MPN    Onda V972 Quad Core
Extend Card     Support TF card up to 32GB extended
Gravity Sensor     Yes
Google Play: Pre-installed
Multi-Touch     Yes, 5 points touch
Android Market     Yes
WIFI Dispaly: Support
WIFI Direct: Support
USB: USB 3.0
HDMI:Support
Skype     Yes
Email and Browser: Yes, built in
WIFI:    802.11b/802.11g / 802.11n
Earphone Interface     3.5mm
Video:4K HD Videp Play with formats of MP4/3GP/3G2/RM/RMVB/ASF/FLAC/APE/MOV etc.
Music     MP3/WMA/FLAC/APE/WAV/RA/Ogg/MIDI/3GP etc.
Ebook     UMD, TXT, PDF, HTML, RTF, FB2…
Work Time: Up to 8~10 hours
Battery : Li-Poly 8000mAh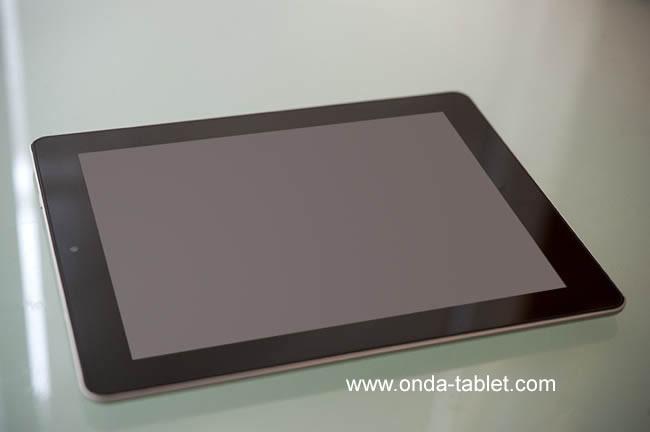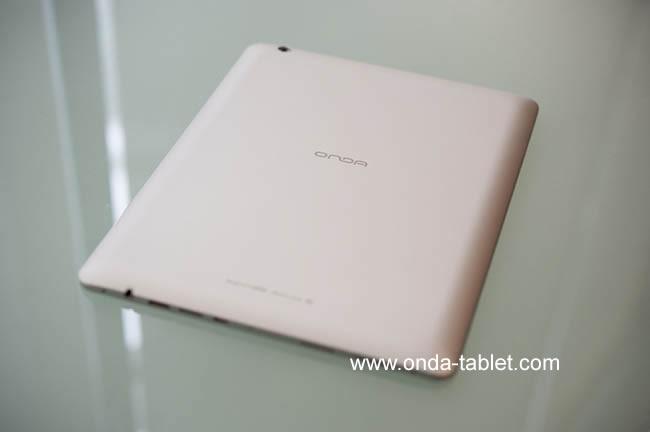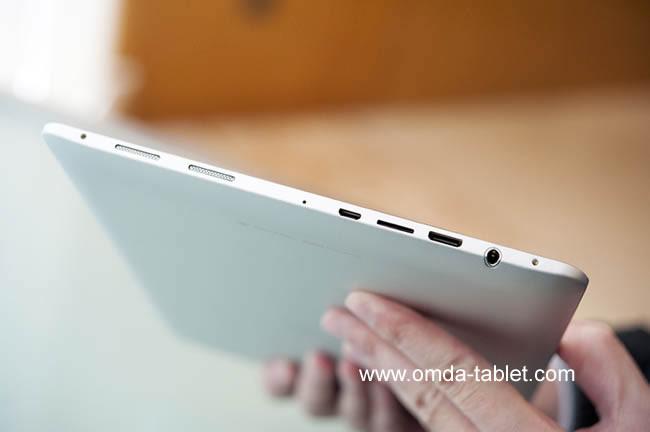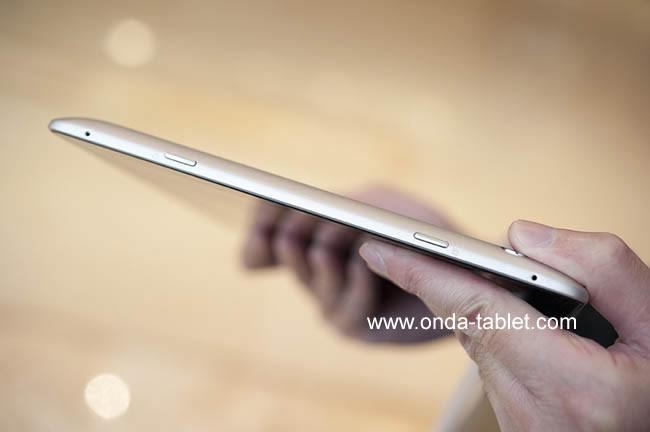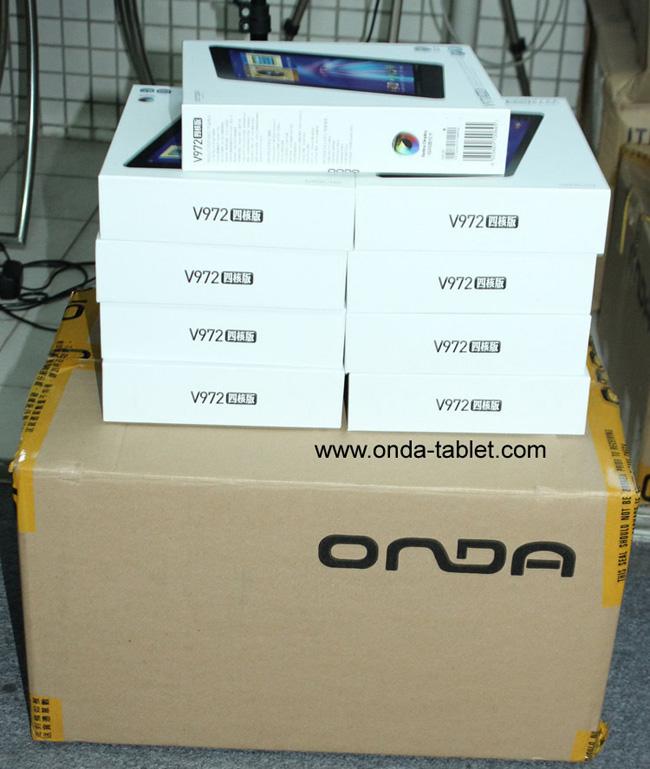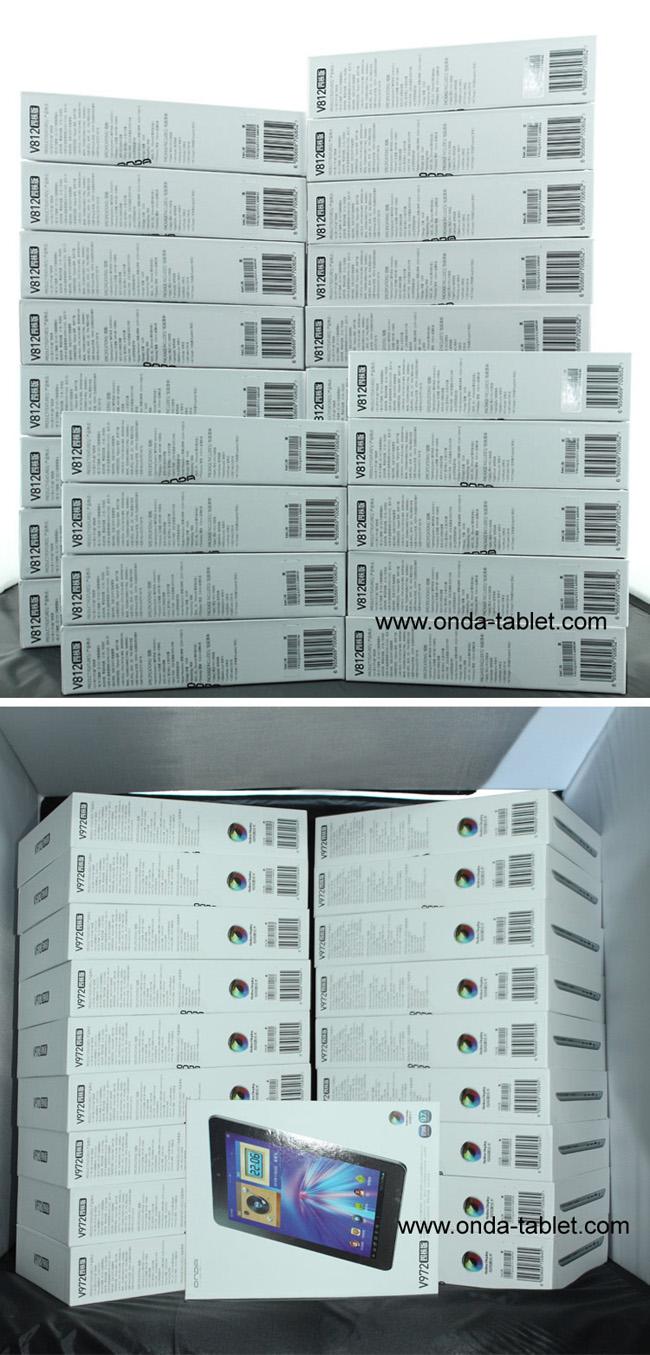 Onda V972 Quad Core contain:
1 x Onda V972 Quad Core
1 x USB cable
1 x Charger
Onda V972 Quad Core Weight: 649g

Onda V972 Quad Core Size: 242*187.5*9.8mm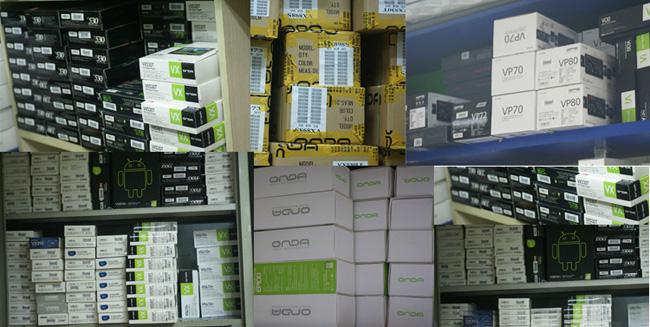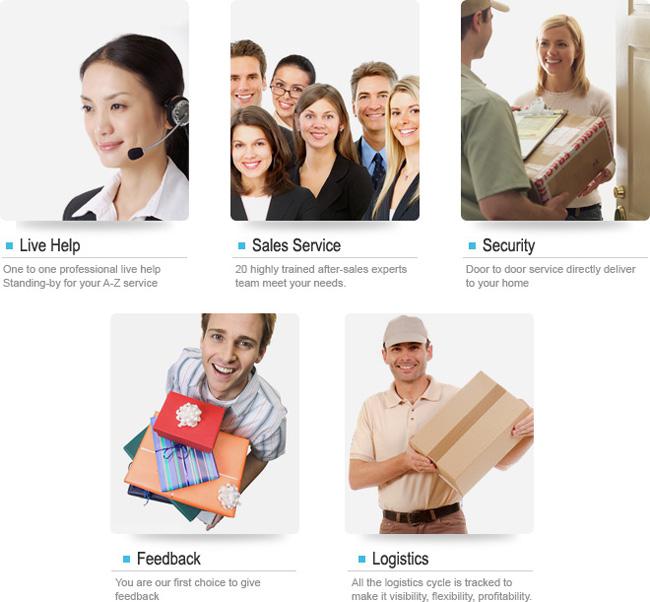 Payment:
* We accept PayPal,Western Union,Wired Transfer.
You may also be interested in the following product(s)
Questions on Onda V972 Quad Core 9.7 Inch Retina Screen RAM 2GB Daul Camera Android Tablet PC 16GB
Sort by

From Jonathan at

3/26/13 12:41 PM

From Oleksiy at

3/26/13 10:36 AM

From tungvanda at

3/24/13 7:57 PM

From fred at

3/23/13 10:01 AM

From Frans at

3/22/13 11:18 AM

From Mat at

3/21/13 6:04 PM

Hello,
when do you release the Anroid 4.2 update?
Do you also have Anroid 5.0 update later?

Thanks
Onda Tablet:
Thank you for your mail.
Onda V972 Quad Core support Android 4.2 Firmware update,when we got the latest firware update,we will submit on our website.

From Wolf at

3/20/13 8:27 AM

My V972 works very good with firmware 1.32 . It is a fine tablet for every day use, it is very fast with a bright screen. WIFI works very good with 11 Channels. Firmware 1.35 doesn't work yet.The update to 1.35 last over 2 hours, and afterwards nothing worked. Another update back to 1.32 and it ran again as good as before.
How can I connect my tablet to my Samsung S3 by tethering mode?An English user manual would be useful.
Does the tablet work with a HUAWEI 1762 Surfstick or only with a 1750?
Best regards
Onda Tablet:
Thank you for your mail.
Onda V972 Quad Core support Huawei 1762 3G USB Dongle.

From fouad at

3/19/13 11:27 PM

can you please give me a moddle number that has the following ; 16g hd 2g ram quad core supports 3g comes with sim card ,bluetooth,front and rear cameras,supports arabic lang +eng.the cost to lebanon and the price please.thanks for ur reply.

Onda Tablet:
Thank you for your mail.
Now we do not have Onda Tablet build in 3G.

From Charba at

3/16/13 3:18 PM

From emran at

3/16/13 4:34 AM

From Edward at

3/15/13 8:08 PM

I thought that the V972 was supposed to be able to be charged from a laptop via USB, but it doesn't seem to be working for me. I just updated to v1.35 -- did this feature get eliminated?
Onda Tablet:
Thank you for your mail.
Do not worry,please use wall charger.

From Shahriar at

3/14/13 5:32 AM

Hello,
I want to bye one in Dhaka, Bangladesh. How much it cost with shipping ? If I want the package in Singapore, how long it take and cost ? How safe and secure is the online transecting ?
Onda Tablet:
Thank you for your mail.
The shipping cost by Airmail is 26.0USD,you will got your package in 5-7days around,we are Onda Tablet online store,we will send your package with tracking number in 2 or 3 business days.

From chong at

3/14/13 5:09 PM

From andrea at

3/13/13 7:50 AM

From Qnikos at

3/13/13 6:13 AM

From Hugo at

3/13/13 4:01 AM

From d-kous at

3/13/13 3:32 AM

i would like to tell me how costs to send a tablet (V972 core 9,7) to greece and if there are keyboard with case. How days make to come in greece. thanks.
Onda Tablet:
Thank you for your mail.
The shipping cost to Greece is 26.0USD you will got your package in 10 days around.

From Ruben at

3/13/13 2:12 AM

Hello,

I received my v972 last Friday and it is fantastic, but I noticed that I can't watch videos (for example via youtube) in full screen, I can hear but the screen is blank. I tried to update to firmware 1.35 (mine was 1.32) to see if it solves the problem, but still nothing, I can't watch videos on full screen, is there any solution?

Thank you
Onda Tablet:
Thank you for your mail.
Onda V972 Quad Core support Youtube,Maybe some setting wrong,we will check it for you.

From Gary at

3/12/13 4:22 PM

I upgraded my V972 successfully to firmware 1.35, however now my Googlr play does not work as it says Google Play has stopped working. Furthermore I did a reset by holding down the off button for a long period and now when i put it on, it goes to a green screen with a doctors icon with a hospital suitcase in a circle in the centre,

Why do you release firmware updates without checking, please advise on what I can do
Onda Tablet:
Thank you for your mail.
We will check it for you,please update the firmware to V1.35

From Mohammad Mehdi at

3/12/13 10:34 AM

From Gene at

3/12/13 9:10 AM

From Jane at

3/12/13 6:00 AM

From Humberto Juan at

3/10/13 12:14 PM

From qisajay at

3/10/13 11:38 PM

when I start Onda v972 appears the usual core 4 and then the 11 characters and then starts over and over by itself
I tried to restart but same error.

Any solution!
Onda Tablet:
Thank you for your mail.
Please update the firmware to V1.35 (http://www.onda-tablet.com/news/onda-v972-android-tablet-v135-firmware/)

From Sergi at

3/8/13 8:49 AM

From Derek Serra at

3/8/13 11:48 PM

From Mark at

3/5/13 10:28 AM

Can I upgrade my ONDA V972 via OTA ?How can I do?
Onda Tablet:
Thank you for your mail.
Onda V972 Quad Core support update through OTA,please check Update button.
The system leave a message when i try the online update:"undiscover new version".WHY?
Onda Tablet:
Thank you for your mail.
Onda V972 support OTA update,please check it here (http://www.onda-tablet.com/news/onda-a31-quad-core-ota-update/)

From JP at

3/5/13 4:15 AM

From y beaufils at

3/5/13 11:47 PM

From Jenz at

3/4/13 3:06 PM

Hello
You sell the 3g modem to this tablet?
How much is 3g modem?
the reception of that capacity has wifi? already solved the problem?
How much is shipping to Colombia?
if the tablet is damaged, should I send it to China?
Onda Tablet:
Thank you for your mail.
For 3G USB Dongle,please check it here (http://www.onda-tablet.com/onda-3g-usb-modem-dongle-wireless-huawei-e1750-android-unlocked.html)
Please update to the latest V1.33 firmware to solve the bug.
The shipping cost to Colombia is 26.0USD,we will have fully test before we send,all our Onda Tablet come with 12 months warranty.

From Kris from russia at

3/4/13 9:52 AM

From Mark at

3/4/13 8:00 AM

From Dave at

3/4/13 1:31 AM

From roman leonov at

3/3/13 7:56 AM

From pooruka at

3/2/13 2:32 AM

From emeka at

2/28/13 3:22 PM

good day, please does the onda v972 support SIM services such as calls and text messages? And secondly, how much will it cost to ship it down to nigeria?
Onda Tablet:
Thank you for your mail.
Onda V972 Quad Core do not support SIM Phone Call and the shipping cost to Nigeria is 26.0USD.

From Ukraine at

2/27/13 11:38 AM

1) What's the difference between Onda V972 32G and Onda V972 16G, except hard drive sizes ?
2) Which of the following processor models СHI A31 ARM Cortex has Onda V972 32G: А7 or A15 or A8 or A5 or A9 ? Which frequency has it in GHz?
3) Which of the following processors models СHI A31 ARM Cortex has Onda V972 16G: А7 or A15 or A8 or A5 or A9 ? Which frequency has it in GHz?



Onda Tablet:
Thank you for your mail.
Onda V972 Quad Core 32GB and 16GB are just the storage difference.
A31 Quad Core Frequency is 1GHz.
Onda V972 16GB and 32GB are the same A31 Quad Core CPU.

From paulmihais at

2/27/13 5:16 AM

From Francesco at

2/27/13 3:42 AM

From Alex at

2/27/13 3:33 AM

I wont to buy ONDA V972,black korpus/Dostabka through EMC in the Russian city of Samara.Tsena delivery and time? Regards Alex.
Onda Tablet:
Thank you for your mail.
We will send your package in 2 or 3 business days and you will got your package in 15 days around.

From Leclair Jocelyn at

2/27/13 12:53 AM

From George at

2/26/13 2:15 PM

From Indy at

2/26/13 2:01 PM

Somewhere I read the tablet has a USB-Host. Will it be able to host a small USB-Bluetooth dongle that can connect to a Headset or a bluetooth GPS receiver?

Thanks in advance!
Onda Tablet:
Thank you for your mail.
Onda V972 Quad Core do not support Bluetooth and GPS.

From Fidel at

2/26/13 8:16 AM

From Leclair Jocelyn at

2/26/13 1:10 AM

From Igor at

2/25/13 1:35 PM

From Leclair Jocelyn at

2/25/13 7:27 AM

Hello
My Onda Tablet V972 worked for only two days
Jason From Onda Support Told Me To Hold The Buttom For some Seconds
Tried it but still Not working
The screen stays Black with The Onda Logo on It
Can You Please Help
What Ca IDo
Regards
Jocelyn
Onda Tablet:
Thank you for your mail.
Please update the firmwaer to V1.32 (http://www.onda-tablet.com/news/onda-v972-quad-core-android-v132-firmware/)

From JonSilvers at

2/25/13 7:16 AM

From Jacopo at

2/25/13 4:09 AM

Hi! I would like to buy an Onda tablet but I need some information. If the tablet needs to be repaired, is there any warranty? And how could I use it? (I'm from Italy)
Onda Tablet:
Thank you for your mail.
We will have fully test before we send,all our Onda Tablet come with 12 months warranty,we provide professional after-sales service,any question please tell us.

From tr@nhungit at

2/25/13 11:44 PM

From Charles at

2/23/13 3:27 PM

what is the difference between the onda V972 16gb and 32 gb exacly? only 32 gb internal memory up and how wee can add memory to the 32 gb onda? is it IPS III do you have it in black verssion ?
Onda Tablet:
Thank you for your mail.
Onda V972 Quad Core 16GB and 32GB just the storage difference,support up tp 32GB external TF card.
V972 Quad Core use Retina IPS screen.

From Jimmy at

2/23/13 8:38 AM

Hi!
What is shipping price to Poland?And how long I must wait for it?
Is black version in stock now?]
Thanks
Onda Tablet:
Thank you for your mail.
The shipping cost to Poland is 26.0USD and you will got your package in 12 days around.
Onda V972 Black version is in stock and ready to send.

From Anthony at

2/22/13 9:11 AM

From AlexYa at

2/22/13 5:29 AM

From Mladen at

2/21/13 8:30 AM

Hi, does Onda V972 Quad Core 9.7 Inch Retina Screen RAM 2GB Daul Camera Android Tablet PC 32GB supports GPS and Bluetooth. Also. is there HDMI port?
Where I could see and buy accessories for this tablet?
Tnx!
Onda Tablet:
Thank you for your mail.
Onda V972 Quad Core do not support Bluetooth and GPS,support HDMI output.
For Onda HDMI cable,please check it here (http://www.onda-tablet.com/onda-tablet-hdmi-cable.html)

From Lud at

2/21/13 5:49 AM

From Kensuke at

2/21/13 11:43 PM

From Julia at

2/20/13 11:54 AM

Onda V972:
1. Is it possible to connect to the Internet through a USB-cabel? Or just with Wi-Fi only?
2. Has it got an internal (inbuilt) 3G-modem ?
3. What is the the model and technical parameters of sound speakers?
(Questions from Russia :)
Onda Tablet:
Thank you for your mail.
Onda V972 support connect to Internet throufh USB rj45 Adapter.
Onda V972 do not build in 3G,suppport external 3G USB Dongle.
Onda V972 use Dual Stereo Speakers.

From Serg at

2/20/13 11:12 AM

Hello! What about shipping cost to Ukraine and what transport service you use? I'd like to get V972 white, but I'm afraid if the delivery wil be via Ems our local post office will lost it. Please advise.
Onda Tablet:
Thank you for your mail.
The shipping cost to Ukraine is 26.0USD,We support Sinapost and SWISSPOST.

From Budjer at

2/20/13 3:03 AM
Ask Your Own Question
Customer Reviews
amazing but with problems Review by

wwonda

It's an amazing product when it works. But offen I have problems line wrong colours in Videos, missing audiosignal and slow browers. I hope you can solve these problems with your new firmware. (Posted on 3/17/13)

bon rapport qualité prix Review by

collot

Commandé le 26/02 recu le 08/03.
Tablette sympa dont on voit pas mal denormité sur les forums.
Installation en passant par phoenix simple et choix multiple de rom dispo enfin a ce jour 3 mais elle est en train de faire bouger les bidoulleur de rom...
tres satisfait resolution impressionnante, wifi ok, taille d'un ipad je la recommande. (Posted on 3/14/13)

Need to enhance PDF Review by

Majid

It is a good device but it has some slowness when reading PDF document.
Oanda need to release a firmware to address the PDF slowness and hitches. (Posted on 3/13/13)

nice piece after firmware upgrade Review by

joe

Bought it in Europe from CMX (clanga 097-2016) and had a lot of crashes, especially when Wifi was low. As there is no immediate support on CMX homepae I loaded firmware 1.35 with the tool provided by onda.
Update is done with english tool - nice! Youtube video helped to identify to change from chinese to english. The rest is standard setup. Works great now with launcher from Nova - smooth transitions - great!
Good bargin.

Joe (Posted on 3/13/13)

Great tablet Review by

Andy

At first it was freezing all the time, i install the 1.32 firmware and now it works great. I also change the rom to remove all chinese application, you wouldn't beleive how fast the tablet is now.
Great tablet, fast, even on internet. I recommend this tablet
Thanks (Posted on 3/4/13)

great Review by

mrud

i purchased one for my self and one for my girl friend. her's locked up and wouldn't run any programs on the 3rd day she had it. the reset of the laptop was VERY easy, held the power and home button for 8 seconds let go of the power, then selected reset. back up and running in under 5 min. these tablets are amazing for the price, i have had 0 problems with mine so far. the only qualms i have had is that a few common applications won't run on it, but that's the app owners not on the tablet. (Posted on 2/25/13)

Finally i fixed it !!! Review by

Dimitris

I was very disappointed ....
My new V972 was crashing all the time.
I had to reset it to factory settings 5 times .
Nothing changed.
Yesterday my brand new OndaV972 has stopped booting. It stops as soon as the several icons appear.
I thought to update the firmware to 1.32.
But how could i do it. The instructions are in chinese language.
It was very diffucult for me. Used google translate, and after a lot of times that i tried, i finally upgraded it.
But the problem was still the same.
It was crashing again and again.
Then i thought to install a new launcher.
I downloaded from google play the Nona launcher.
And this was the miracle.......
Everything fixed....
No crashes......it works properly....
After one week i finally have a working tablet.
Hope that Onda team will take seriously my comments, and fix all these prpoblems at the next firmware upgrade.....
And something else.....
Please.....everytime you give us a new firmware, please have the instructions also in English.....
4 stars only for the wi-fi receiver....which is no strong at all...
If you are more than 10 meters from your router...it is inp[ossible to connect....
hope next firmware update to have a solution for the wi-fi receiver problem.
If someone have the same problems with, me just do what i did, and you will have a working tablet.
My e mail is [email protected], for more help.
Have a good evening from Greece.
Dimitri. (Posted on 2/24/13)

Very very diassapointed Review by

Dimitrio

My 7 days OndaV972 has stopped booting. It stops as soon as the several icons appear.
In a simiral question you answered your client to downlaod the new firmware.
How shall we install it?
There are only chinese instructions !!!!!`
I wish i have never bought ONDA V972. (Posted on 2/23/13)

Good display. That's all Review by

Dimitrio

Onda V972 is nothing else than a good looking tablet with a nice display which is useless in practice !!!
Unofortunately i lost my money !!!
5 hours the longest battery life ( screen back light lowest )
It crashes all the time.
In one hour it is crashed the half.
You have to turn it off and on again....and in 5 minutes it crashes again !!!
Just lost my money and my time.
I had to reset to factory settings five times till now !!!
Thank god i own the app my back up pro, which helps the back up prossedure.....
Do not loose your money like i did !!!!
2 stars only for the display.
But why to have a display that i cannot use??? (Posted on 2/22/13)

recambios Review by

Hipólito

Hello, I had an accident and my screen crashed the v972, I've bought one and my son 2 alejandroelectronic, would have the kindness to give me a good price for a display including postage by DHL,thanks (Posted on 2/21/13)

50-50 Review by

rajlesta

-Nice screen or display clarity, better than my samsung s2
-Built up nice, very slim and great feeling
-Performance wise, not too bad
-Battery i think it is not bad, it comes with 8000mah, since the tablet have IPS screen, it consume more power. Even my s2 cant even stand 1 full day.
-Tried connecting to HDTV via HDMI output, it works great.


bad about this tablet
-I just bought it 2days ago, and had already factory reset 5-6times (means i have re-install apps from play store again and again) Some users adviced me to use Nova Launcher instead, and uninstall stock launcher which is believed causing freezing/stuck issue. So far tablet is ok with Nova.
-Built in speaker sound is too low, I always have to use headphone when watching movies, etc

conclusion: mixed feeling because of constant freeze but i think Nova launcher would help fixing this issue. Also hoping someone would create custom ROM (root & recovery is available now) otherwise it is nice tablet just because of the screen.. (Posted on 2/18/13)

Not so good as I ecpected... Review by

KONSTANTINOS

I've just received the Onda V972 few days ago. First impression was nice especially with rethina screen and its Quad Core processor. But, soon I realised two serious issues. First of all, WI-FI strength is very weak so most of the times connection to internet is bad or unable especially if the tablet is operating 5-6 meter away from rooter. The only way of being high quality connected (3-4 bars) is to be near of it. Keep on mind that my rooter is working properly and all my other devices (laptop, mobile phone) are connected instantly with great strength. Secondly the battery is also weak and its lifetime does not exceed 6 hours usage. My device baseband version is v1.2 and I've already executed factory data reset but these problems remain. I hope company trying to solve soon theese negative points of V972.

(Posted on 2/17/13)

Mixed feelings.. :) Review by

BIKER

I have received the tablet yesterday and had a little time to play with it. It came with 1.2 firmware version.
+fantastic screen
+good back camera
+good speed, little bit lag
+good build quality, looks great

-battery life. started reading ebook, for 10 minutes battery dropped 4 percent,,,so lets say max 4 hours with screen on minimum. screen with sepia theme on Mantano Reader.
-constantly freezes with default launcher (restart needed). Helps to install Apex launcher
-installed speakers low quality/sound/loudness
-with connected headphones I hear constant noise when ever I touch something on screen and the tablet works.
When the music or movie is stared these noises are not to hear.

Hope that newer firmwares could give us better battery usage and solve the problem with the sound. (Posted on 2/8/13)

Great value Review by

Gary

This is a great tablet, the screen colours are very vibrant, however the battery is poor (about 5 hours use) and does not live up to its 8000 Ah capacity as compared to similar Android tablets(up to 10 hours) with the same battery, therefore the screen needs to be kept on low light, which can be dull. the tablet is fast, volume is satisfactory with headphones and without, just wish that they could have put the speakers on both sides to give it the stereo effect. The on and off button is on the side when in landscape mode and its easy to accidentley switch the tablet off. On the whole a great tablet, Onda should take account of this feedback and make V973 a winner (Posted on 2/8/13)

V972 Review by

scott in Alabama USA

Just received my V972 after a long wait. The wait was well worth it. This unit far out shines my duel core tablet I currently have. The display is excellent. Colors are vibrant. It is very quick when switching from one application to another. In some ways it is equally as good as my wife's iPad 4. Personally I think the V972 display is better. I'm not a big fan of Apple in general. Much prefer Android. The aluminium back shell has a matte finish and so much slippery than my wife's iPad. Her iPad can easily slip out of your hand. You may have had that experience too. The V972 keyboard is very responsive. The only aspect that could be better is the distance I can away from my wireless router as compared to my wife's iPad. IPad is better. However, that being said the V972 is essentially as good as the iPad 4 and is far less costly. In my opinion the V972 wins. Currently I couldn't be more happy. But it's long term functionality story is yet to be told.


(Posted on 2/7/13)

I really like the Onda V972 cant wait to get one!!! Review by

War

Excellent Product. (Posted on 2/6/13)

V972 onda Review by

ANDREW

Great screen, eye popping colours and great resolution

The 4.1 jelly bean is much smoother than ics os .

THE LOCATION OF THE HOME BUTTON AND THE ON/OFF BUTTON IS JUST INSANE , or am I missing something here!.

my vi40 Dual Core has home button on front same as iPad and the on/off button is in the top corner, well out of the way of accidental presses.PERFECT.


Please think about the v973 button locations carefully and put them where they should be .

V972 is a good buy for £150.00gbp. (Posted on 2/5/13)

Great Tablet Review by

bobb

Definitely worth the money. Fast, crisp picture, have had no problems with it. Comes with v1.2 which is not rootable, have to downgrade to v1.02 (which is rooted and use ota rootkeeper, then upgrade to v1.2). Best buy I have done. (Posted on 2/1/13)

Good display but that's about it Review by

Handlanger

I have no real android experience but compared to an iPad 1 the v972 (or android) is slow as hell. Almost nothing is smooth and I end up doing lots of erroneous input due to the missing/delayed system feedback. Reading and zooming in PDFs is no fun at all due to the performance. Add a couple of crashes and hangups and you end up with a good looking tablet with a nice display which is useless in practice.
Benchmarks seem to prove a pretty bad OpenGL-performance too.
I sincerely hope that future firmware updates can improve the situation!
As of now I consider the v972 as paperweight. (Posted on 2/1/13)

Excellent high-end tablet for a decent price Review by

Marnix

When you look at the screen this tablet, you will notice how sharp it is! The retina screen is alot better than my Asus Transformer Prime tablet.

2gb memory and a super fast Quad Core processor makes this tablet a must have for anyone. For this price it is among the best tablets available, 5 stars from me!! (Posted on 1/31/13)

GREAT BUT ISSUES Review by

JOELLY21

Pros.
Excellent screen.
ANTUTU 11550

Cons.
Lag on browser, would not accept chrome.
off button miss placed, gets hit constantly in landscape mode.
NO BLUETOOTH, for me that renders the tablet 50% useless unless I want to use wired.

Other.
I love the ones but will go to competition for wireless capabilities.
(Posted on 1/28/13)

i take my words back Review by

Dannie

i finally downloaded the new update and device began working much better, i now type this message from the tablet. photo slideshow is outstanding, camera allows to take photos of articles or other papers, however it does need a backlight .

i highly recommend this tablet. it is worth its price (Posted on 1/27/13)

Worth the price but.. Review by

Dannie

But the device, regardless of its powerful inside - keeps lagging and hagging over time. Thankfully it restarts very quickly.

Screen is outstanding, overall speed is much above average, almost 11000 points in AnTuTu benchmark and the same productivity as Asus Transformer prime, i think programm issue will be solved in the nearest future with new firmware. I hope very much you will keep updating it.

Notice that AC adapter is 2.5A for this tablet, so in order to charge it from your PC you need to have Dual USB to microUSB cable (Posted on 1/25/13)

PROBLEME DE BEUGUE Review by

XATIVA

Bonjour
J'ai commander cette tablette chez un de vos revendeur HONKONGEEK pour ne pa le cité
Je vous informe quelle a fonctionner pendant 2 jours et que maintenant elle n'arrete pas de beuguer
Il met Impossible de me servir de cette tablette ONDA V972
que faire a part la renvoyer pour un echange
Ne l'ayant pas completement tester ma note sera 3 étoiles car le son pas terrible
Tres bonne image par contre dommage que le son ne suive pas
(Posted on 1/24/13)

nice tablet but... Review by

joshua

The tablet keeps freezing and hanging after some updates. Hope onda resolved this firmware issue soon.
(Posted on 1/22/13)

Woth the price. Review by

Paul

Finally got it,very Nice products.
Woth the price. (Posted on 1/21/13)

I will be available when the wave v912 for sale? Review by

Patospeek

Dear, I wonder when it will be available again ondav912 to buy it, and I saw the reviews and I get my hands on.
regards
Patospeek.
(Posted on 1/18/13)

size Review by

sangaster

i will say i loved the size although i dont know of an onda outlet in uganda (Posted on 1/12/13)

Flash & Html? Review by

roger

Does this tablet support Flash and or HTML?
Will it ship with the Android OS update installed?
Thanks
RCasey

Onda Tablet:
Onda V972 Quad Core is pre-installed with Android 4.1 OS,support Flash 11 and HTML 5.
All pre-existing orders be shipped with priority according your order number. (Posted on 1/9/13)

to SIN by air? Review by

wish

what is the shipping fee for Singapore? by DHL., air freigh? (Posted on 1/6/13)

in stock? Review by

Taza-Bas

Hello,

I was wondering if you have in stock V972...

Merci (Posted on 1/4/13)

Do you ship any where? Review by

bjtoronto

I'm in Canada, how many days will I get the package after I order it? How much for the shipping fee? How to pay it? Thanks! (Posted on 1/3/13)

retina screen Review by

ANDREW

I have just ordered this v972 as it seems like alot of tablet for the money, £150 gbp.

I have the vi40 dual core and am very pleased with it, it will run high end games like dead trigger no problem and I assume that the 972 will perform as well but its the retina display that caught my cash.

Looking forward to receiving 972 in a couple of weeks. (Posted on 12/26/12)

Waiting to see Review by

roger

Just order this V972.
Hope to see it early next year?
I see lot s of different specs on the web, and no better details here.
Does it support 4k Vid out?
I will update review after receive and test unit.
(Posted on 12/22/12)

italian language Review by

angegardien

is support for italian language? (Posted on 12/17/12)

Good Review by

MagElan

Good performance, even if it does not support 3G. Price is excellent. Let us look like with reliability. And if and Android 4.1 will be, then all good. (Posted on 12/9/12)

Seems good product, must see Review by

jon

It seems a really good product, want to know more details of it (Posted on 12/8/12)

Onda V972 Review Review by

Helpful

http://www.engadget.com/2012/12/07/onda-v972-tablet-jelly-bean-240/#comments

http://www.androidauthority.com/onda-v972-tablet-retina-display-quad-core-cpu-jelly-bean-137268/

http://www.cnx-software.com/2012/12/06/240-onda-v972-allwinner-a31-quad-core-android-tablet-with-9-7-retina-display/


Doesn't look like there is an HDMI output. :( (Posted on 12/7/12)

is it supports sim support Review by

12cram

Onda V972 Quad Core 9.7 Inch Retina is it supports sim slot, please let me know (Posted on 12/5/12)

HDMI Port Review by

Andrew Evans

Hi, Onda Team, Does the Onda V972 have an HDMI slot? Many thanks for your assistance in this matter. (Posted on 12/3/12)