Details
Onda V818 Quad Core 7.9 Inch Mini Android Tablet HDMI WIFI White 16GB
Onda V818 Quad Core Features:
OS:  Android 4.1.1
CPU: A31S Quad Core
GPU: 8 Core Power VR SGX544
RAM     1GB,DDR3
Storage  16GB
Size:   7.9 inch
Display:  IPS
Resolution:  1024*768 IPS
Screen PPI: 162
Visible Angle: 178°
Daul Camera:Front 0.3 Megapixels,Back 5.0 Megapixels Auto Foucus
Video: 4K HD Videp Play with formats of MP4/3GP/3G2/RM/RMVB/ASF/FLAC/APE/MOV etc.
Android Market     Yes
Onda V818 Quad Core Details:
Gravity Sensor     Yes
Skype     Yes
Extend Card     Support TF card up to 32GB extended
Earphone Interface     3.5mm
Multi-Touch     Yes, 10 points touch
Music     MP3/WMA/FLAC/APE/WAV/RA/Ogg/MIDI/3GP etc.
Ebook     UMD, TXT, PDF, HTML, RTF, FB2…
Email and Browser: Yes, built in
WIFI:    802.11b/802.11g / 802.11n
OTG Function: Support
Work Time: Up to 6~8 hours
Battery : Li-Poly 4000mAh
Weight: 339g
Size:139*200*7.5mm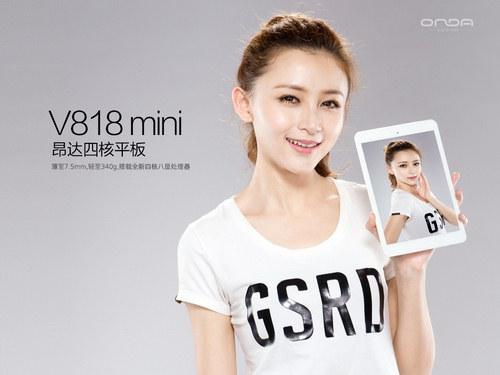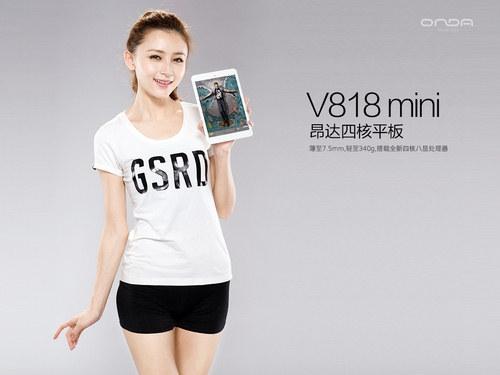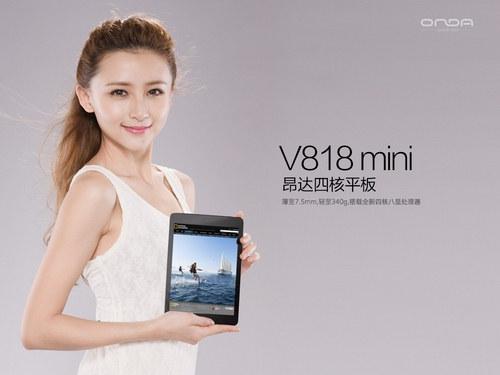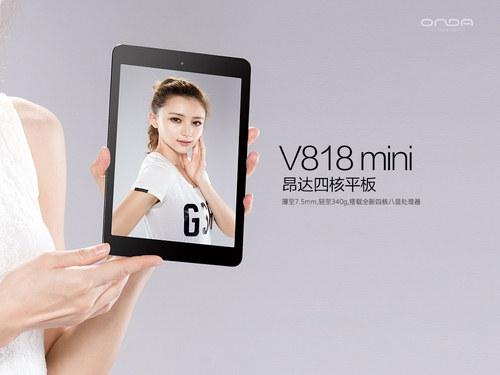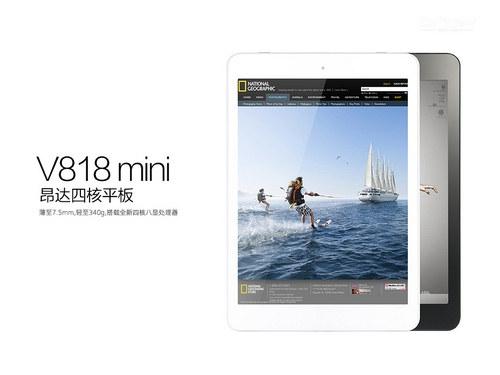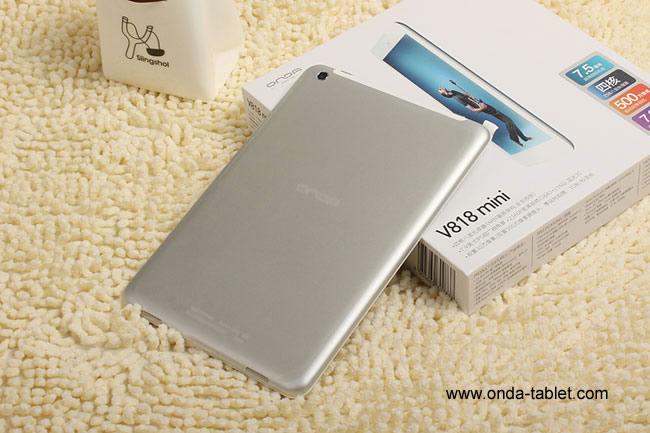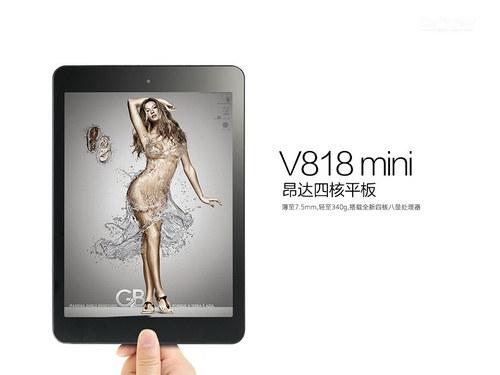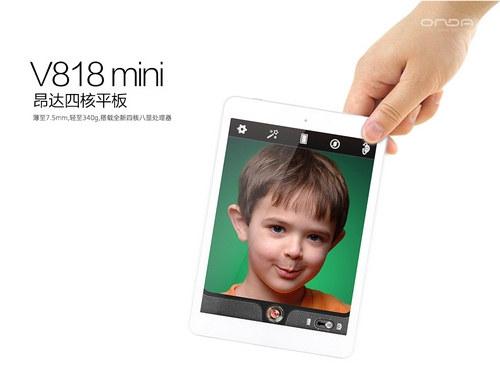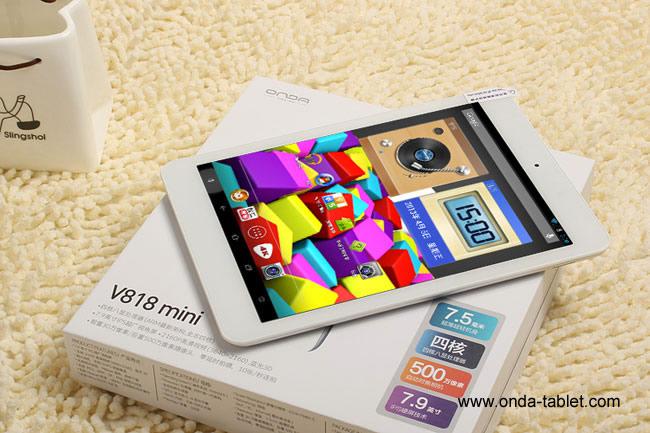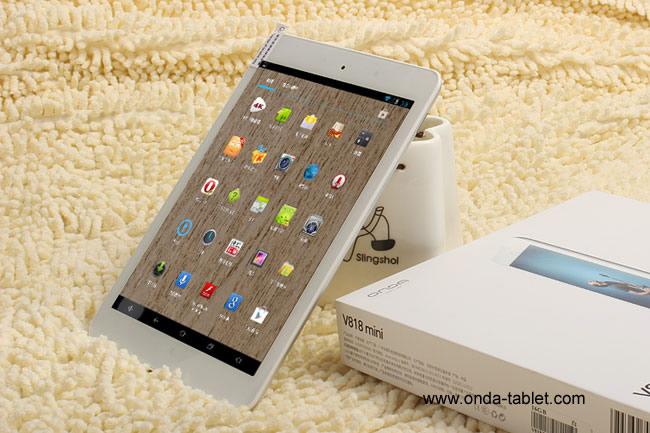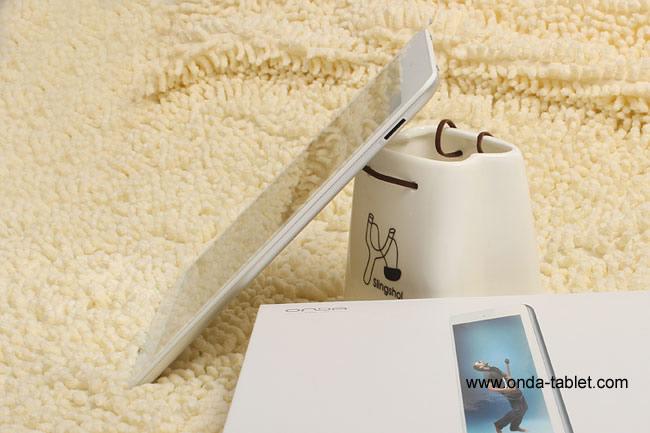 Onda V818 Quad Core contain:
1 x Onda V818 Quad Core Android Tablet
1 x USB cable
1 x Charger
Payment:
* We accept PayPal,Western Union,Wired Transfer.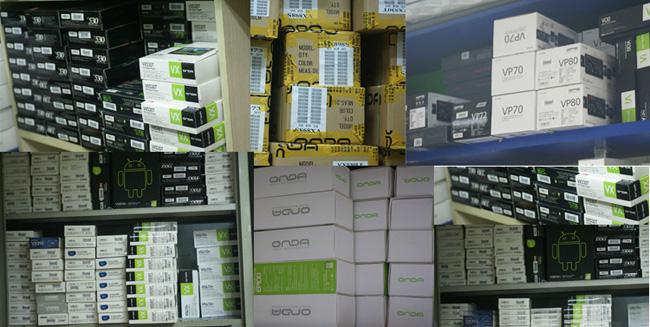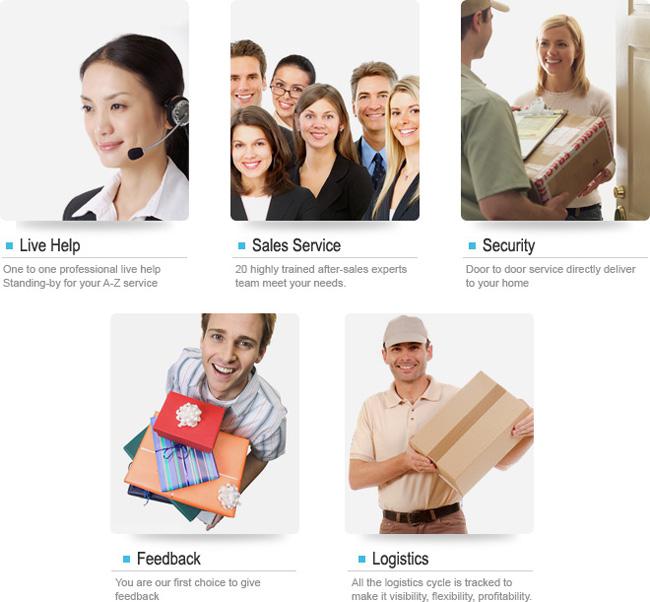 You may also be interested in the following product(s)
Regular Price: RUB10,995.21

Special Price: RUB5,784.21
Questions on Onda V818 Quad Core 7.9 Inch Mini Android Tablet HDMI WIFI White 16GB
Sort by

From Dave at

11/15/14 2:45 AM

From sarabpreet singh at

11/1/14 9:38 PM

From Tiago at

9/17/14 3:31 AM

Good afternoon,
My tablet "Onda V818 Quad Core 7.9 Inch Mini" it stopped the screen, gives light but does not show the image. Although it will connect via HDMI tv shows image already.
The screen is broken? how do I fix? warranty replaces?
Thank you,

Onda Tablet:
Thank you for your mail.
Have you got charging logo when connect with Computer?

From moshe at

5/9/14 12:16 PM

I bought my v818 mini a bit after it was introduced.
I suffer problems of:
1. Lags. The move of home pages is not swift. In addition, while writing it stucks alot. In total it feels that the tuch is not good.
2. The wifi surf is really slow. Alot slower that surfing wifi in same place with my cell pho.e.

B.T.W: i did not upgraded anything never. Its as if it just came from factory.
What can i do?
Onda Tablet:
Thank you for your mail.
Our after sale service will contact you soon,please update the firmware to Android 4.4 OS.

From asem at

1/11/14 6:11 AM

does it have mini hdmi or normal port
and is there any warrenty if we opened the box and got the tab broken or didnt work
how much for the shipping to turkey
Onda Tablet:
Thank you for your mail.
Onda V818 MIni Tablet support HDMI output and all our Onda Tablet come with 12 months warranty,we will have fully test before we send,
The shipping cost to Turkey is 15.5USD.

From mario at

12/27/13 7:07 AM

From husam at

12/23/13 10:52 PM

How much it cost to deliver to saudi arabia?
Does it support arabic language?
Does it has upgrade to android kitkat?
Onda Tablet:
Thank you for your mail.
The shipping cost is 15.5USD,Onda Tablet support Arabic Language and Onda V818 Mini support Android Kitkat firmware update.

From husam at

12/23/13 10:49 PM

How much time of playing video does it works?
Please could you increase battery to 5200 mah in next generation ?
Onda Tablet:
Thank you for your mail.
Onda V818 Mini support Video Play for 4-5 hours,when we got the latest Onda Androdi Tablet,we will email you.

From EC at

11/28/13 11:47 AM

The V818 Mini Quad Core V3.2.1 Firmware link (dated 31st July) cannot be found when I click on it.
Download: http://pan.baidu.com/share/link?shareid=2796377567&uk=389436537

Please re-post it so that we can upgrade to the latest V3.2.1 Firmware. Thanks!


Onda Tablet:
Thank you for your mail.
Please download the latest firmware here (http://pan.baidu.com/s/1sxfNh)

From Vincent at

11/28/13 5:36 AM

From Vincent at

11/27/13 10:18 PM

May I know when you will be able to restock? I'm interested in getting 2.
Onda Tablet:
Thank you for your mail.
Onda V818 are out of stock,please check Onda V819 Mini Tablet,the V818 Upgrade version (http://www.onda-tablet.com/onda-v819-mini-quad-core-7-9-inch-ips-screen-narrow-frame-ogs-16gb.html)

From adphilip at

9/27/13 12:27 PM

From SABYA at

9/15/13 3:11 AM

Hello I am an user of ONDA tablet model VI10.

My problem is that I cannot navigate pdf file. When I am trying to download adobe reader from google play, its giving some error message that the device cannot be recognized.

How to solve this issue?

Best Regards'

Sabya
Onda Tablet:
Thank you for your mail.
Please download the PDF reader from Google Play Store.

From Jani at

9/13/13 2:32 AM

From solari at

9/7/13 4:52 AM

From Kemal at

8/31/13 3:50 PM

I have noticed that, after latest firmware upgrade for my Onda V972 and Onda V818 antutu score, are very high.
Onda V972 Antutu score: 19580
Onda V818 mini Antutu score:21923
It is just to much improvements, du you have any explanation? :-)
Onda Tablet:
Thank you for your mail.
We have release the latest firmware,and we will release the Optimization Firmware on our website.

From Pietro at

8/26/13 4:40 AM

From Crono at

8/13/13 8:58 PM

if we are to send the tablet for repair.

What is the fees that will be included if the tablet is still under warranty.

i am from Singapore
Onda Tablet:
Thank you for your mail.
Can you tell us your order number? All our Onda Tablet come with 12 months warranty,Any question please tell us.

From _Javi_ at

8/9/13 10:33 AM

From Shouxin at

7/22/13 5:11 AM

From Glenn at

7/13/13 8:01 AM

From Rion at

7/1/13 6:44 AM

From Tiago at

6/26/13 6:41 AM

From Addel at

6/24/13 9:14 PM

From Addel at

6/24/13 8:52 PM

Does this tab has built-in 3G support? if no then pls suggest which model has 3g support with Quad Core processor.

Do u ship Bangladesh? What will be the delivery cost? Did u provide tracking number? Pls mention which courier service u will use?

Thanks
Onda Tablet:
Thank you for your mail.
Onda V818 Mini do not build in 3G,we support shipping to Bangladesh and the shipping cost is 15.5USD,all our Onda Tablet come with tracking number.We support Express and Airmail service.

From Maxim at

6/23/13 4:44 AM

From yaqoob at

6/18/13 7:38 AM

From bea at

6/16/13 5:13 AM

From Goschy at

6/12/13 6:23 AM

From Brett at

6/11/13 5:11 PM

From Wolfgang at

6/9/13 3:45 AM

Onda V818 mini:
After updating to Android 4.2.2, processor is overheating and tablet become very hot when external micro SD card ( SanDisk Ultra 32GB or 16GB ) is installed.After deinstallation of external SD card, everything is ok. Both cards are checked and ok. SD card drivers are actual. What has to be done?
Onda Tablet:
Thank you for your mail.Our engineer will check it for you soon.

From Rico at

6/8/13 6:31 AM

From Walter at

5/31/13 6:49 AM

salve,
Onda 3G Modem USB Dongle - wireless Huawei E1750 Android (sbloccato), è compatibile con V818 mini?
Onda 3G modem usb funziona in italia?

grazie ciao

Onda Tablet:
Thank you for your mail.
Onda V818 Mini support Huawei E1750 Dongle and support worldwide using.

From anton at

5/23/13 8:55 AM

From Voodoo at

5/19/13 8:51 AM

How can 818 mini can play mostly HD games,videos?
it's Ram 1 G can be easily full..
v 812,813 can get in Myanmar,(Burma)?>
i want u to send more products
how about can get V972 in our country?
if i order,how can i order u,??plz
Onda Tablet:
Thank you for your mail.
Yes,Onda V818 Mini support Playing HD Games and HD Videos.

From daviep at

5/12/13 12:52 AM

As in the previous question as far as I have been told the tablet onda v972 32gig was shipped out with the latest os and firmware. What will they be plus if there are any further updates will I be notified. And how do I install these updates. Thank you daviep.
Onda Tablet:
Thank you for your mail.
When we got Onda V972 32GB in stock,we will email you.

From daviep at

5/10/13 6:28 AM

I have purchased a onda972 and I am awating its arrival. What firmware can I expect to get on this device as it has just come from the factory, and will it be 4.1 or 4.2. Also have all the glitches been fixed. Thank you
Onda Tablet:
Thank you for your mail.
Now Onda V972 are Android 4.1 OS,when we release Android 4.2 OS,we will support OTA update.

From despoina at

5/9/13 8:44 PM

From Scott at

5/8/13 4:48 PM

From Varapun Y at

5/8/13 8:13 AM

Do you have v818 mini white in the stock now? How much the shipping cost for Bangkok, Thailand? And how long does it take for delivery? What kind of the shipping service?
How much the lowest value you can post on the package?
Onda Tablet:
Thank you for your mail.
We have Onda V818 White and Black version in stock and ready to send,the shipping cost to Bangkok is 15.5USD,you will got your package in 10 days around.
We support Express and Airmail shipping.

From DHL at

5/5/13 4:12 AM

From Cpam at

5/4/13 4:05 AM

I have a V818 but cannot connect to TV with my standard mini hdmi cable. I think the mini male connector may be too short for the V818 socket. Is a different cable required and where can I get it?
Onda Tablet:
Thank you for your mail.
Onda V818 Mini Quad Core use Mini HDMI port.

From wesley at

4/29/13 12:59 PM

hi, I have recently bought the v812 but it is Kathy and I get 'has stopped responding' on a lot of apps, so I was wondering if I got the V818 would I have the same issues?

also when will u have it in black and how long to ship to the uk?

many thanks
Onda Tablet:
Thank you for your mail.
Onda V818 Mini are the latest Onda Tablet,please update Onda V812 V2.0 Firmware.
We have Onda V818 Quad Core black version in stock and ready to send,you will got your package in 3 business days around by Express.

From Rishi at

4/29/13 10:21 PM

Hi,

Does the 4000mAh battery last long. Screen is 7.9 which cool but would it not drain the battery also how much time can i spend while using skype before battery drain out.

Does the device has the latest android jelly bean 4.2.2? if not can it be upgraded from the 4.1.1 and how?

Is it a retina display which can match the ipad.

Thanks in advance for replying these queries. very eager to get one of these.
Onda Tablet:
Thank you for your mail.
Onda V818 Mini support 5-6 hours playing.V818 support Android 4.2.2 OS update.
V818 Mini use 7.9 Inch IPS scren.

From anders at

4/28/13 1:29 AM

From Tobias at

4/25/13 11:12 AM

Hi, when is 4.2.2 available for v818?

Is it different firmware than for 972/973 because of allwinner A31S and not allwinner A31
Onda Tablet:
Thank you for your mail.
We are testing the latest Android 4.2.2 OS final version,we will release the firmware the next week.
Onda V972 and V973 are same A31 CPU,but use difference Power Manage system.

From luqman at

4/23/13 12:01 AM

hello, can I know about the process of buying the tablet from malaysia. I'm interested in buying some type of onda tablet. And also is there any additional cost that I must pay other than display price?
Onda Tablet:
Thank you for your mail.
We support shipping to Malaysia and we support Paypal and West Union.

From Andy at

4/23/13 11:51 PM

From Sgaino at

4/20/13 8:22 PM

From Lu at

4/19/13 12:48 PM

From Julian at

4/17/13 12:02 AM

From blcakblcak at

4/15/13 2:18 AM

From aristo at

4/13/13 6:40 AM

hii
what is the difference between "Onda V818 16GB WIFI HDMI" to "Onda V818 Mini Tablet WIFI Dual Camera"??
is there a product that sailed 8 inch onda which suport celuller card for call and SMS
how much postage to Indonesia??
Onda Tablet:
Thank you for your mail.
Onda V818 Mini Quad Core do not support Celuller Call and SMS.
Onda V818 have white and black version.

From Dmitry at

4/13/13 6:05 AM

From José Paulo at

4/13/13 8:57 PM

Hi

You can Write a smaller value in the shipping documents so to avoid or reduce custom duties and tax ?

Where do I put the message for you to remember?

Best Regards
José Paulo
Onda Tablet:
Thank you for your mail.
We will print your package value under 50USD.

From dimitri at

4/12/13 4:57 AM

Hello, I placed an order April 8, 2013, and today the status is still "Processing". Will I get more information when sending in my order.
Thank you per advance.
Onda Tablet:
Thank you for your mail.
So sorry take your so long time,we will check it for you soon.

From Chris at

4/11/13 7:39 AM

I have read several reviews in which the Onda V818 specifications of RAM and battery are different from the specifications on your website:
- 2 Gb RAM (on your website: 1 Gb is mentioned)
- 5000 mAH battery (on your website: 4000 mAH is mentioned).

My questions:
Is the Onda V818 available with 2 Gb RAM and 5000 mAH battery? If not available yet, is it expected soon? When? At the same price ($169.90)?

Thanks!
Onda Tablet:
Thank you for your mail.
Onda V818 Mini Quad Core is RAM 1GB and 4000mAh battery.

From david at

4/11/13 6:08 AM

From Masaru at

4/10/13 5:14 AM

The kind of the shipment service to Japan?
How much is each rate?
 
Is the Japanese plug bundled?
Onda Tablet:
Thank you for your mail.
We support shipping by Express and Airmail and the shipping cost is 15.5USD.

We will send the right adapter according your shipping address.

From dandi at

4/10/13 5:16 PM
Ask Your Own Question
Customer Reviews
5 stars Review by

Szymon

Cheap and works great. Just downloaded 12 games on it for my daughter for Christmas and still have 2/3 the memory.
This will keep her busy! She wanted an Ipad.. She's 6... I was a little unsure when it first arrived
because it came in a shipping envelope and the instructions but after turning it on I was impressed.
Better quality then I expected, but I didn't have high expectations when ordering (Posted on 1/11/14)

Nice tablet, bright display Review by

Gauchi

I have owned this tablet for about two months total. I am very happy with it. While on vacation it suddenly died. There was a bad storm and it was plugged in charging and when I woke up in the morning it was dead. Coincidence maybe but I returned it under warranty and it was repaired and returned without any problems. It is good to know that they stand behind their products. The tablet would be even better with 2GB of memory, Bluetooth, and less of the unnecessary programs. At least make it so that a person can uninstall the stuff they don't want to use or have an English version of the tablet without the Chinese programs. The feel of my tablet is nice and I feel that Onda is a good company. I will buy more of their products. (Posted on 6/24/13)

good Review by

gjs999

DF186 -- can you document how and what tweaks you applied to solve the laggy response -- think alot of people would find this useful - maybe Onda can have a downloadable pdf on their site even
Thanks

3 stars until laggy response sorted eith bt tweaking or firmware (Posted on 5/13/13)

Tablet and OS Review by

df186

Pretty good tablet.

Pros: constructed very well, display is vibrant, very good support from manufacturers. CPU and GPU is good. Rated at 11000 by antutu( Could be better if OS was streamlined a little more). Comes rooted (just install SuperUser and your good to go)

Cons: Only 1gb of Ram - this is a very big con.. should be 2gb. no Bluetooth. at first very laggy.. (with tweaking and rooting you can make it much smoother.. but should be out of the box like this). Cannot Download all Google Play apps like google+ and talk and Vevo (However, you can side load them via their app but it should come from the play store). One other con is the LCD Display. it is at 213 which it runs fine but looks too much like a phone and some tablet apps arent compatible. if you mod it to 160 then it is in tablet format but it slows down just a bit. still havent figured out why.

Final thoughts: This little table has so much potential. If manufacturers were to install ASOP Android it would fly. They need to get rid of all the extra apps that they add on as it bloats the system. also adjusting the kernel for better memory management as well as battery life is a must. I tried using SetCPU, but their Kernel doesn't support it and it freezes. all in all.. its a great little tablet especially for the price but there is a little bit of work to set it up properly. (Posted on 5/13/13)

Nice Tablet Review by

Sotiris

It arrived in Greece in 12 days, in a good packaging.

The tablet is well constructed, the screen is vibrant, hardware-wise this is a nice tablet. Fells well made. Software wise, there are a few problems, nothing that is too worrying if you are happy playing with it, a bit more so if you are going to give it to someone who is a first time user.

Over all, very nice for the price. (Posted on 5/12/13)

pane ips Review by

alvaroqui

mejor que el ipad mini (Posted on 5/9/13)

Battery & OS Query Review by

Rishi

Hi,

Does the 4000mAh battery last long. Screen is 7.9 which cool but would it not drain the battery also how much time can i spend while using skype before battery drain out.

Does the device has the latest android jelly bean 4.2.2? if not can it be upgraded from the 4.1.1 and how?

Is it a retina display which can match the ipad.

Thanks in advance for replying these queries. very eager to get one of these.

(Posted on 4/24/13)

Nice Tablet Review by

Bill

Worth the price (Posted on 4/5/13)