Onda OBook 20 Plus Dual-Boot Tablet PC
    Onda Obook 20 Plus features with Dual Operating Systems allow you to take the most out of both Windows and Android.Stunning 10.1-Inch IPS display portraits vivid color and stunning detail for a cinematic user experience.Enjoy the latest media and most demanding applications thanks to a powerful Quad-Core CPU and 4GB RAMMassive 6000mAh battery supports a day filled with mobile fun and entertainment.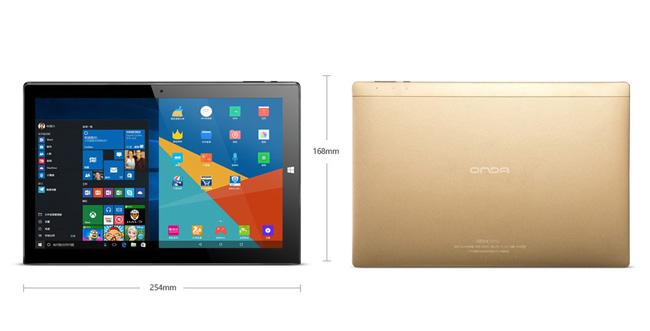 For all tablet lovers out there that simply can not choose between an Android and Windows tablet,the Onda Obook 20 Plus offers the perfect solution.Featuring both a Windows 10 and Android 5.1 operating system,this Dual-OS tablet is guaranteed to bring along a smooth user experience to anybody out there.Its sleek and lightweight design,additionally make this 10.1-Inch tablet extremely portable; letting you carry it along wherever you go.The option to attach this tablet computer to a separate keyboard (not included) gives you the possibility to turn the Onda OBook into a sophisticated laptop truly making it a multifunctional device that is perfect for entertainment and business purposes alike.
     Onda Obook 20 Plus equipped with large and beautiful 10.1-Inch IPS display.  Dual-OS tablet PC allows you to enjoy all your favorite movies,games,and mobile applications in stunning detail and vivid color.Featuring the Intel Atom X5 Z8300 processor,Onda Obook 20 Plus is capable of handling the latest games,Full-HD movies,and the most demanding of mobile applications without dropping a frame. Built for speed and efficient usage, this Quad-Core CPU that reaches speeds up to 1.84GHz is sure to handle whatever you throw at it.Along with its powerful CPU,this tablet PC furthermore packs a stunning 4GB of RAM, opening up the doors for excessive multitasking sessions without you needing to worry about slowing down your device.