Details
Meegopad M1 Win8 Dongle features Quad Core Inetl Bay Trail-T Z3735F CPU,RAM 2GB and 32GB eMMC Storage,support external TF Card,HDMI ouput ,and USB OTG Function.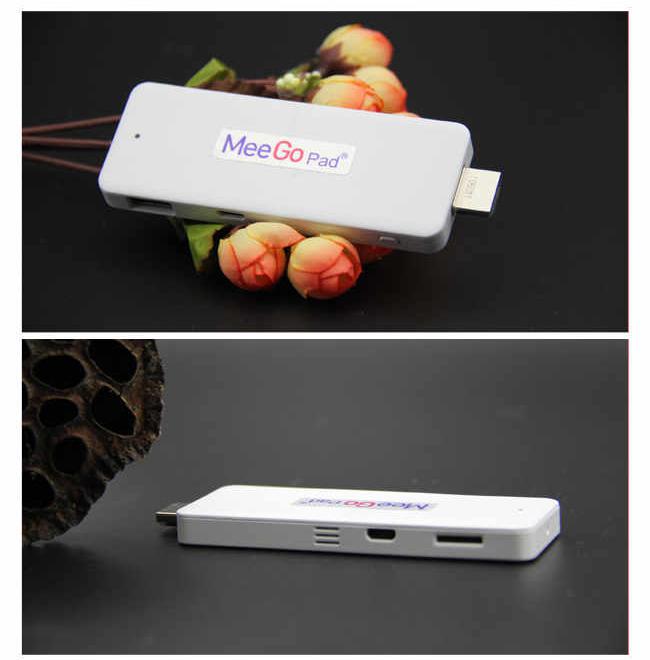 Meegopad M1 Mini PC Features:
OS: Android/Windows 8.1
CPU: Intel Bay Trail-T Z3735F Quad Core
RAM    2GB,DDR3L-1333
Storage  32GB eMMC4.5
Bluetooth: Support
Wifi:  RTL 8723BS 802.11b/g/n
Bluetooth:  Bluetooth 4.0
Video: 4K HD Videp Play with formats of MP4/3GP/3G2/RM/RMVB/ASF/FLAC/APE/MOV etc.
Extend Card     Support TF card up to 32GB extended
Meegopad M1 Mini PC Weight: 46g

Meegopad M1 Mini PC Size:   110*38*9.9mm

Meegopad M1 Mini PC contain:
1 x Meegopad M1 Mini PC
1 x USB cable
1 x Charger
Payment:
* We accept PayPal,Western Union,Wired Transfer.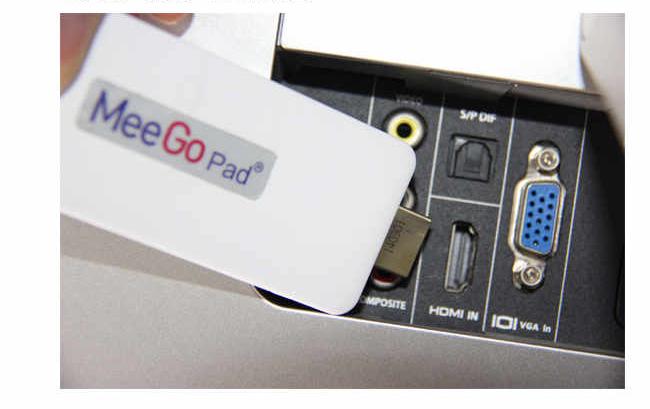 Questions on Meegopad M1 Mini PC Intel Quad Core Window/Android Dual System
Sort by

From adzbaha at

2/28/15 6:31 AM

From Ilshat at

2/27/15 11:07 AM

Can it be shipped to Khanty-Mansiysk, Russia
How much will it cost?
How many days will it take to arrive?
thanks for answer.
Onda Tablet:
Thank you for your mail.
We support shipping to Russia and the shipping cost is 8.0USD,you will got your package in 7-10 days around.

From Mihai at

1/23/15 2:12 PM

From Tuan Duc Truong at

1/3/15 1:31 AM

Can it be shipped to Ho Chi Minh, Viet Nam
How much will it cost?
How many days will it take to arrive?
and you can contact me detail Meegopad M1 Mini PC Intel Quad Core Window/Android Dual System,
Can you email to me detail it, [email protected], I want to buy this, but i don't know how,

Onda Tablet:
Thank you for your mail.
We support shipping to Vietnam and the shipping cost around 6USD.
You will got your package in 3-5 business days and when we got Meegopad M1 Mini PC in stock,we will email you.

From Y S at

12/22/14 2:57 PM

From Baltasar Gonzalez at

11/30/14 7:21 PM

Good afternoon:
I have a table v971 wave model, but took a long time I can not turn it on.
What I can do ?, I'm from Madrid, I do not know where a service.
I reset but does not turn, but if charging the battery.

Onda Tablet:
Thank you for your mail.
Can you tell us your order number?Our after sale service will contact you soon.

From Aimee L Cartner at

11/30/14 7:14 PM

I have an Onda tablet V71s Core 4, that was a gift roughly 6 mo ago. I have a few game playing apps for me (others for my granddaughter). It has told me for some time that I don't have enough storage space, even though the internal sd is less than 50% used and it has barely anything on the exteral sd card. The one I play most is Scramble with Friends. I played it before going to sleep last night. This morning, I could not find the icon for the game, even though it was listed under apps in settings. I cleared the cache, becaus it always says some things may not work because the memory is too full. Then I uninstalled it with the intention of reinstalling it since it just did not appear on the screens to use at all. However, even though I uninstalled, it is still telling me that I don't have enough memory to reinstall. :-(

Onda Tablet:
Thank you for your mail.
Our after sale service will contact you soon.

From monir hossain at

11/30/14 7:08 PM

I want buy Inca v972.I live in Bangladesh. But what process I buy it? I don't understand your sell process .but I want ready to buy this product.do u have any deller in Bangladesh? If I go DHL so how can that help me buy this product? Pls and me as soon as possible
Onda Tablet:
Thank you for your mail.
Onda V972 Tablet are out of stock,please check onda V975m and Onda V989 Tablet,much more powerful.

From Antonis at

11/26/14 8:58 PM

when it expect to be ready for shipping ? The price will be the same, if I order when it is available ? Does it include windows licenses ? Does it a dual OS ?
Onda Tablet:
Thank you for your mail.
When we got Meegepad M1 Mini PC in stock,we will email you.
Meegopad M1 Mini PC support Dual System.

From bb007 at

11/25/14 11:04 AM

When i can buy this meegopad m1 mini pc?...can you please email me too. I need 2 pieces. Can it be shipped to Slovenia (EU)?

Thank you
Onda Tablet:
Thank you for your mail.
When we have Meegopad M1 Mini PC in stock,we wille mail you.
We support shipping to Slovenia.

From elhossain elshamandi at

11/25/14 12:23 AM

When i can buy this meegopad m1 mini pc please support me i need 2 pieces from this mobile and shipping it to Egypt .

How much does it coast for 2 pieces and shipping please give me good offer .
i need this mini win8 pc dongle .
Onda Tablet:
Thank you for your mail.
When we got Meegopad M1 Mini PC in stock and ready to send,we will email you.
The shipping cost for shipping is 6.0USD.

From Kamaldeen at

11/25/14 12:23 AM
Ask Your Own Question