Details
Onda V812 Tablet configured a 8 inch IPS screen with 1024*768 resolution. Onda V812 is installed with Android 4.1.1 OS. Onda V and support Android 4.2 update,Onda V812 adopts All Winner A31 Quad Core chip and strong 8 Core Power VR SGX544MP2 GPU.Onda V812 have White and Black version,will lead a new time of 8 inch Quad Core Android Tablet PC.
Onda V812 White Features:
OS:  Android 4.1.1 support Android 4.2 Update
CPU: AllWinner A31 Quad Core
GPU: Power VR SGX544MP2 8 Core 1MB L2 Cache
RAM     2GB,DDR3
Storage 16GB
Shell Material     Metal
Screen: 5 Points Capacitive Touchscreen, 1024*768 High-resolution Screen
Size:   8 inch
Resolution:  1024*768 IPS
Gravity Sensor:   Yes
Visible Angle: 178°
Display:  IPS
Daul Camera: Camera,Back 5.0M with Auto Focus,Front 0.3M
Android Market     Yes
WIFI Dispaly: Support
WIFI Direct: Support
Onda V812 White Tablet Details:
Brand    Onda
MPN    Onda V812 Quad Core
Extend Card     Support TF card up to 32GB extended
Gravity Sensor     Yes
Multi-Touch     Yes, 5 points touch
Android Market     Yes
HDMI:Support
Skype     Yes
3G :   support external 3G dongle
Email and Browser: Yes, built in
WIFI:    802.11b/802.11g / 802.11n
Video:4K HD Videp Play with formats of MP4/3GP/3G2/RM/RMVB/ASF/FLAC/APE/MOV etc.
Music     MP3/WMA/FLAC/APE/WAV/RA/Ogg/MIDI/3GP etc.
Ebook     UMD, TXT, PDF, HTML, RTF, FB2…
Earphone Interface     3.5mm
Onda V812 White Tablet Weight:  478g

Onda V812 White Tablet Size: 199.8*152.5*9.8mm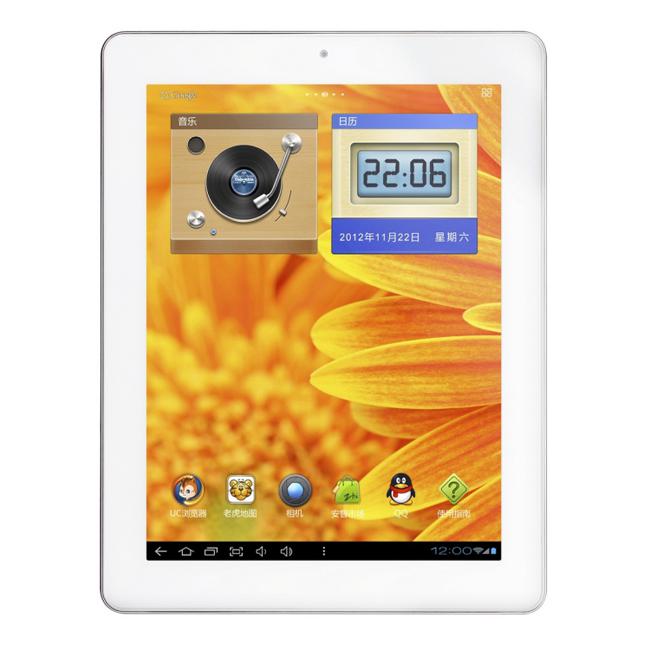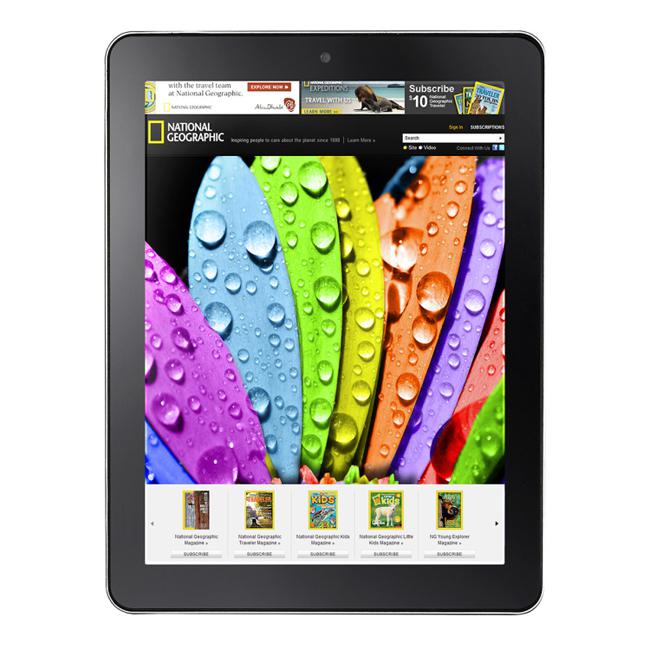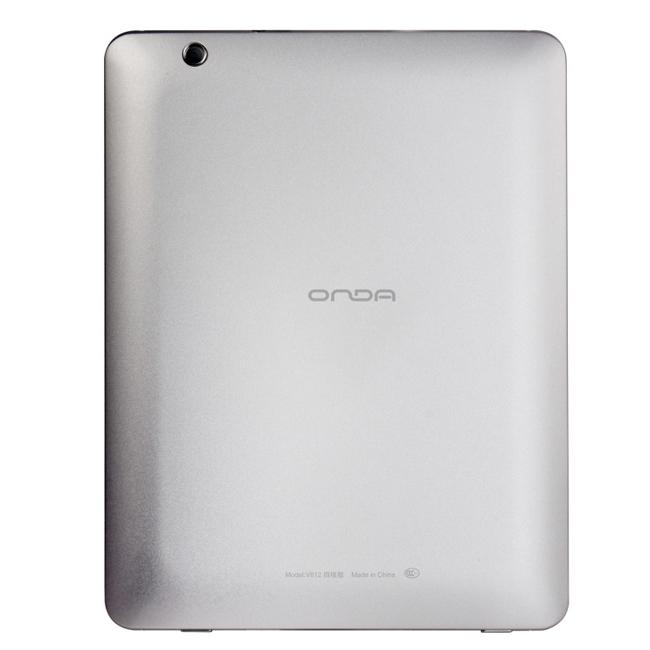 Onda V812 White Tablet contain:
1 x Onda V812 Quad Core White
1 x USB cable
1 x Charger
Payment:
* We accept PayPal,Western Union,Wired Transfer.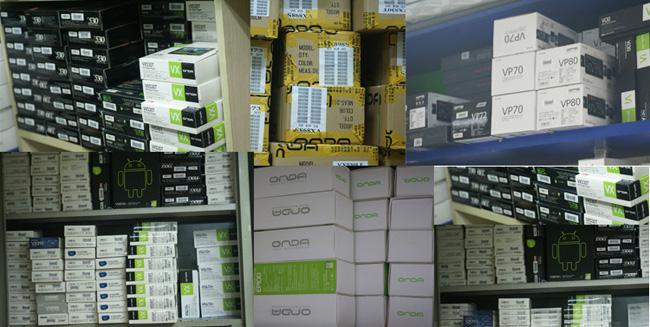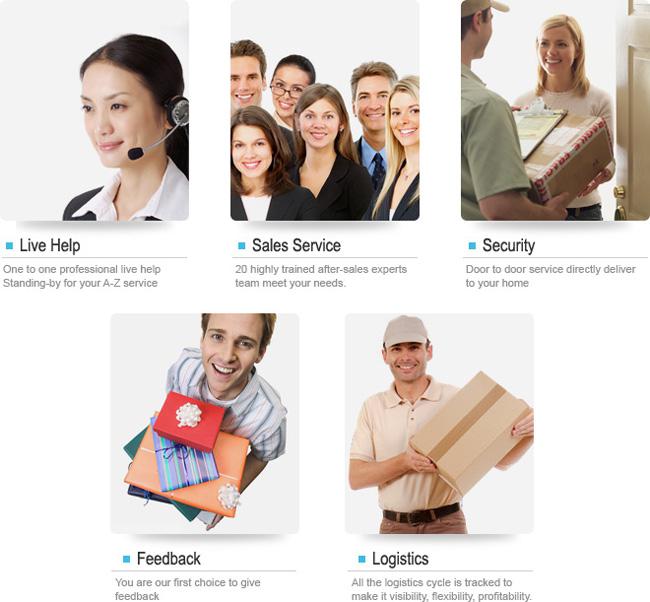 You may also be interested in the following product(s)
Regular Price: $239.90

Special Price: $219.90

Regular Price: $239.90

Special Price: $219.90

Regular Price: $179.90

Special Price: $159.90
Questions on Onda V812 Tablet PC 8 Inch IPS Touch Screen RAM 2GB Android 4.1 16GB White
Sort by

From torcan at

4/28/13 7:37 AM

From timothy at

4/27/13 3:56 AM

From juliana at

4/26/13 3:48 AM

From Vadim at

4/26/13 2:38 AM

From marlon at

4/26/13 8:16 PM

From Vitalii at

4/17/13 2:37 AM

hello! you want to buy a tablet computer! tell you deliver the goods to Ukraine? how long to wait for shipping and how much is shipping to Ukraine? Track parcel number will be issued? Thank you!
Onda Tablet:
Thank you for your mail.
We support shipping to Ukraine and you will got your package in 10 days around by Airmail and the shipping cost is 15.5USD.
All our package come with tracking number.

From ahmed marzouk at

4/14/13 4:09 AM

From James at

4/13/13 7:48 PM

How Many do cost shipping to México? What kind of pack service do you use?
I want the safer packing service please.
How many do cost the tablet (159.90 + Shipping cost?
Are you reliable?
Do you sell the leather case?
Sure, does the shop could put a lower value to avoid paying actual full amount of customs?
Onda Tablet:
Thank you for your mail.
We support shipping to Mexico by Express and Airmail.
The shipping cost is 15.5USD,we are Onda Tablet Online Store,all our package come with tracking number.
We will print your pacakage value under 50USD,but we are not sure about your local customs.

From Xavi at

4/10/13 10:07 AM

From mehrdad at

4/9/13 11:57 AM

Dear sir
For onda V812 firmware V2.0 you have two option as below:

V812 Quad Core V2.0 Firmware: (only support V1,V2,V3,V4 Version)
http://file2.mydrivers.com/ondata/download/driver/oamp3/V812Core4/V812Core4-V1_v2.0.rar

V812 Quad Core V2.0 Firmware: (only support V5 Version)
http://file2.mydrivers.com/ondata/download/driver/oamp3/V812Core4/V812Core4-V5_v2.0.rar

which option can i use it for upgrade my tablet?
or
how can i find my tablet version?
Onda Tablet:
Thank you for your mail.
Please check Onda V812 back SN Code,the 9 and 10 number.

From Mehrdad at

4/8/13 10:13 AM

I want to upgrade firmware of my onda v812 to firmware V2.0
please say to me how can i know my tablet version for download related firmware
Onda Tablet:
Thank you for your mail.
Please download the firmware form (http://www.onda-tablet.com/news/onda-v812-813-811-android-tablet-v2.0-frimware-download/)
Or you can update through OTA.

From Mirek at

4/6/13 4:01 PM

Good evening,
Does support Onda tablet v812 Czech language (Czech menu)?
How many do cost to send to Czech Republic (Europe)?
Thank you
Mirek
Onda Tablet:
Thank you for your mail.
Onda V812 Quad Core support Czech Language and the shipping cost to Czech Republic is 15.5USD.

From Aris at

4/5/13 4:51 AM

From Andres arana de la Cruz at

4/4/13 10:09 AM

How much the shipping to Perú? how long does it take to get to Perú so you can put the lowest for customs
Onda Tablet:
Thank you for your mail.
The shipping cost to Peru is 15.5USD,you will got your package in 10 days around,We will print your package value under 50USD.

From Scarlett at

3/23/13 4:31 PM

From Gianny at

3/22/13 6:02 AM

How much is shipping in Italy and how long will it take to arrive?
What is the warranty on the product?
Thank you.
Onda Tablet:
Thank you for your mail.
The shipping cost to Italy is 15.5USD,you will got your package in 12 days around.
All our Onda Tablet come with 12 months warranty.

From Prince at

3/22/13 2:49 AM

From eltahan at

3/19/13 2:54 PM

does it support google now ?
and sure voice search like in nexus 7
which 3G dongle could be using with it ? :)
Onda Tablet:
Thank you for your mail.
Onda V812 Quad Core is pre-installed with Google Play,for 3G USB Dongle,please check it here (http://www.onda-tablet.com/onda-3g-usb-modem-dongle-wireless-huawei-e1750-android-unlocked.html)

From Martin at

3/10/13 7:42 AM

Hello
I bought a tablet and V812 I have a problem with sound. Speaker always plays a few minutes and then it does not play (tested on everything - games, videos, music system). And again and again. FW update did not help. You can try something else, or you need to send a complaint to the tablet?
Onda Tablet:
Thank you for your mail.
Please update the firmware to V1.35 to solve the Sound Bug.

From Kaung Htet at

3/9/13 12:07 AM

From Maung Su at

3/7/13 3:14 AM

From billy at

3/5/13 11:00 PM

From Alfred at

3/5/13 6:06 PM

From paco torres at

3/4/13 12:22 PM

From billy at

3/4/13 4:15 AM

From grabert john at

3/1/13 12:15 AM

From Ko11 at

2/28/13 12:48 PM

Hi
My V812 is displaying a total RAM of 1.658 GB instead of 2.0 GB and a total internal memory of 12.530 GB instead of 16 GB.
The device is running with the latest firmware 1,32. I reinstalled it many times but the total memory values are the same.
Is there a problem with my device or is a firmware issue?
Onda Tablet:
Thank you for your mail.
For RAM and Storage,this is because your apps and Android OS will take RAM and your storage for use.

From molle at

2/24/13 8:55 AM

From UKfan at

2/24/13 2:10 AM

Can the Onda V812 4500mah battery be upgraded to 6000mah?
If so, can you supply suitable 6000mah battery?
Or perhaps offer customers advice on how to maximise battery times?
Thanks
UKfan
Onda Tablet:
Thank you for your mail.
Onda V813 Quad Core will update to 6000mAh battery.

From AHMED at

2/22/13 11:59 PM

From Remy at

2/21/13 10:46 PM

From Robi at

2/20/13 1:11 AM

From Juanjo at

2/17/13 8:00 AM

From Spyro at

2/16/13 3:00 PM

I just ordered the tablet (to be shipped in france) can you please be extra carefull to ship the white version ? I need this tab for a wedding where everyting is gonna be white :-)
Onda Tablet:
Thank you for your mail.
Please contact our support center (http://www.onda-tablet.com/contacts/)

From ichrisb101 at

2/16/13 11:47 AM

shipping to germany? costs and time?
is v812 white avail?

thanks
Onda Tablet:
Thank you for your mail.
We support shipping to Germany and the shipping cost is 15.5USD,you will got your package in 3-5 business days by Express.
Onda V812 is in stock and ready to send.

From Xevi at

2/12/13 4:08 AM

From Pamela at

2/5/13 4:50 AM

From Vincent at

2/2/13 7:39 PM

Hi,
Have afew questions.
1) How to order a black colour V812?
2) Come with GPS?
3) Come with HDMI cable?
4) Battery Capacity is 4500? How long can it last under normal usage?
5) How long it will take to be delivered to Australia?
6) For Australia plug need to pay $0.99. Is this an Australia plug or adaptor?

Thanks
Onda Tablet:
Thank you for your mail.
For Onda V812 Black version,please check it here (http://www.onda-tablet.com/onda-v812-quad-core-tablet-pc-android-allwinner-a31-wifi-hd-2160p-dual-camera-16gb.html)
Onda V812 do not come with GPS and HDMI cable.
Onda V812 Quad core build in 4500mAh battery adn support 3 hours playing.
You will got your package in 3-5 business days by Express and Australia is AU adapter.

From Davide (Italy) at

1/29/13 11:59 AM

From cthu at

1/29/13 9:19 AM

From Sergei at

1/28/13 3:04 AM

From marta at

1/23/13 6:53 PM

From Gabor at

1/21/13 2:23 AM

From jm at

1/20/13 7:06 AM

From Manu at

1/20/13 3:13 AM

From John at

1/19/13 10:43 AM

From Andrea at

1/19/13 4:19 AM

From Zilvinas at

1/18/13 2:38 AM

Or any Onda PC tablet have - GPS, maps, maps updating, what about warranty in Europe?
Onda Tablet:
Thank you for your mail.
For Onda GPS please check it here (http://www.onda-tablet.com/onda-vp90-3d-gps-7-inch-portable-car-gps-navigation-4gb.html)
All our Onda come with 12 months warranty.

From Jeong at

1/14/13 9:12 AM

From fromSpain at

1/14/13 7:48 AM

From Alberto at

1/13/13 3:46 PM

From roberto at

1/11/13 11:28 AM

From baraa at

1/8/13 2:54 PM

From cem at

1/7/13 11:05 AM

From Zai at

1/6/13 6:48 AM

From simon at

1/6/13 1:50 AM

From Luis Armando at

1/4/13 10:26 AM

From ivan at

1/3/13 4:10 AM

From alberto at

1/3/13 6:41 PM

From alexander at

1/2/13 2:53 PM
Ask Your Own Question
Customer Reviews
Brilliant Review by

fuzzy pete

I got mine a week ago via DHL it was worth the extra payment with a superb DHL tracking system.
I am delighted with my V812 which is very responsive and a pleasure to use noproblems connecting to the NET or anything else.
Some inbuilt Chineses apps will not convert to English or uninstall but nevertheless I am delighted with the tablet.
Thank you Onda (Posted on 4/10/13)

Value for your $!! Review by

Grant

Good value android tablet. Some glitches in the OS but hoping the 2.0 firmware upgrade download will fix these issues, if I could just find the file??? Kids love the games from Play site.
Thanks Onda. Love the service. (Posted on 4/9/13)

recive item Review by

fir

Just receive my order..tq under for the excellent service (Posted on 1/21/13)

tablet Review by

zzz

Just got my tablet within 10 days. Sent me the wrong colour. Instead of white, I got black.
The build quality is good.Going to install more apps from play store. Yes! Play store! (Posted on 1/11/13)

A SURELY FAST TABLET Review by

Redz

Onda V812 16GB Model,M.R.P. $329.99,On Sale Now: $179.99
iPad Mini 16GB Model: $329
Amaon Kindle Fire HD 7 16GB Model: $199
Google Nexus 7 16GB Model: $199

Specifications of Onda V812
Processor Allwinner A31 based on ARM Corex A7 Quad Core
Memory 2GB DDR3 RAM
OS Android 4.1 Jelly Bean,upgradable to Android 4.2
Screen 8 inch 1024X768 display of the 3rd IPS,
Aspect Ration : 4:3
Operation Mode 5-Point Multi-touch Capacitive Touch Panel plus button
ROM 16GB/32GB Nand Flash
Expandable Stroage Up to 32GB by SD card
Camera 2.0MP front camera,5.0MP rear camera
Connectivity Built-in Wi-Fi,External 3G Dongle
Video Playback HDMI(no need to change setting,usable once connection via cable)
Other Ports USB 2.0/OTG,3.5MM Ear Jack,2.5MM Charging Jack,TF Card Slot
Battery 6000mAh,standby for 360 hours,works for 9 hours.
Dimension 199.8 mm x 152.5 mm x 9.8 mm
Weight 550 grams
Other features Flash UI,Widget,Dual Speakers,Clock,Gravity Sensor and much more

SURE THING THAT IT CAN COMPETE WITH OTHER BRANDED TABLETS! (Posted on 12/27/12)