Details
PC Onda Vi30 Tablet 8 inch Capacitive Touchscreen All winner A10 1.5GHz Camera WIFI 3G HDMI 2160P 8GB All Winner A10 1.5GHz and Mali 400 HD 2160P WIFI 3G HDMI 2160P 8GB.(Onda Online Office Store only sell genuine PC Onda Vi30 Tablet)
All our Onda Tablets are brand new electronics: absolutely no closeouts, used electronics, or counterfeits.All Onda products come with a 12 month warranty.
PC Onda Vi30 Tablet CPU Features:
OS: Google Android 4.0 (ICS)
CPU: All Winner A10 1.5 GHz
GPU: Mali 400
RAM     512M,DDR3
Storage 16GB
PC Onda Vi30 Tablet Screen Information:
Screen: Capacitive Touchscreen, 1024*768 Screen
Size:   8 inch
Resolution:    1024*768   Pixels
Gravity Sensor:   Yes
PC Onda Vi30 Tablet includes:
1 x PC Onda Vi30 Tablet
1 x USB cable
1 x Charger
1 x Earphones
1 x OTG Cable
PC Onda Vi30 Tablet other Features:
Brand    Onda
MPN    Vi30 Deluxe
Video     2160P(3840*2160), H.264,VC-1,MPEG-2,MPEG4,XviD/DivX,Real 8\9\10,AVI,RM,RMVB,PMP,FLV,MP4,M4V,VOB,WMV,3GP,MKV
Music     MP1,MP2,MP3,WMA,OGG,APE,FLAC,WAV,AC3,AAC,AMR,DTS,RA,M4A
Ebook     TXT, PDF, HTML, RTF, FB2
Battery: 4800mAh
Music around the state     About 9-10 hours
About the game mode     About 7 hours
1 x Language:Mutil language
1 x SD card (max 32G supported)
1 x Earphone (3.5 standard connector)
1 x 2.5mm Charge
1 x HDMI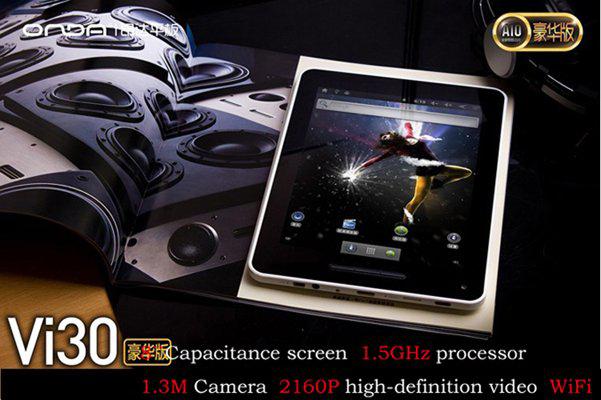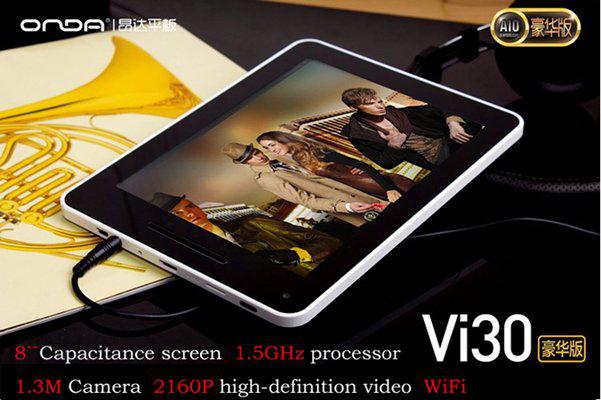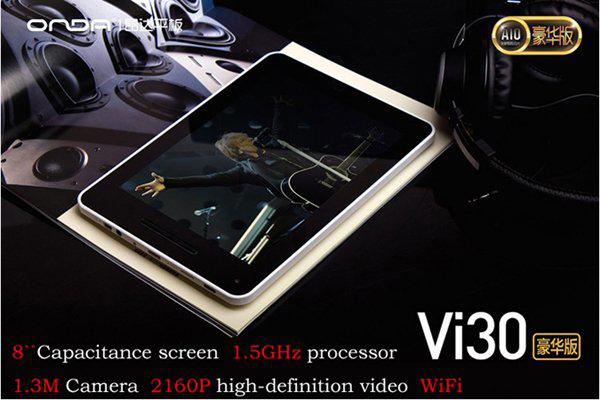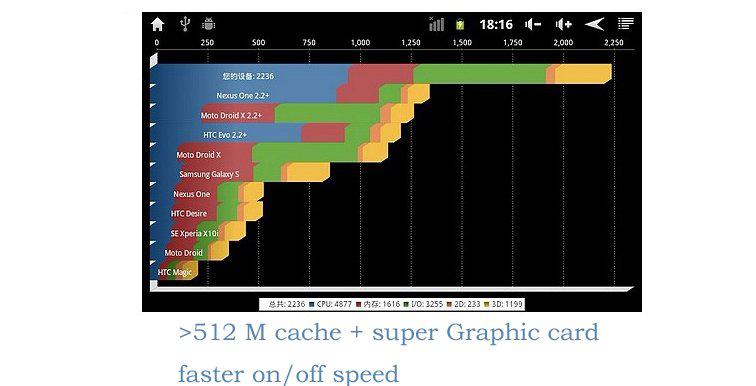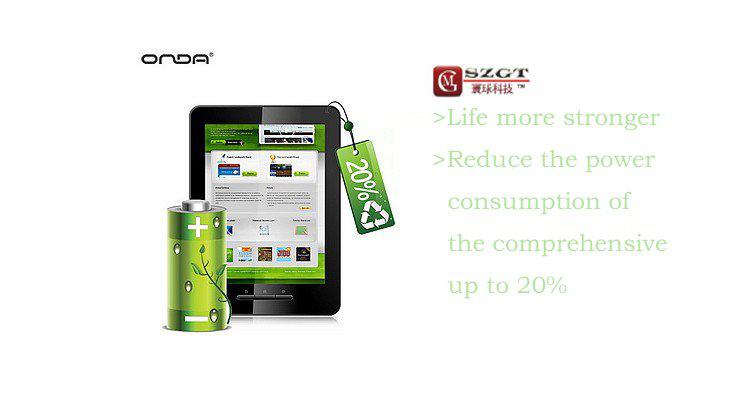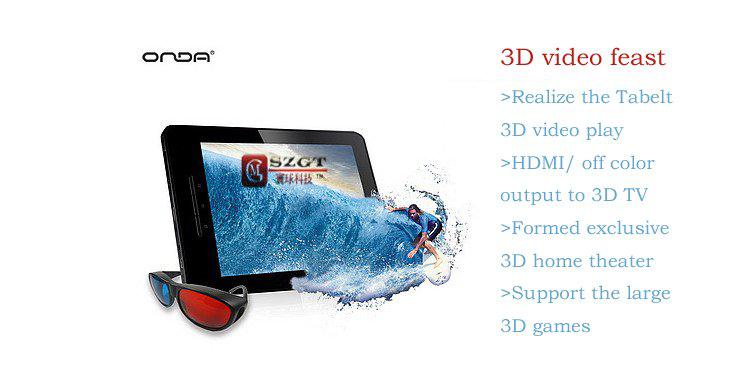 PC Onda Vi30 Tablet Weight:512g

PC Onda Vi30 Tablet Size:213x156x14mm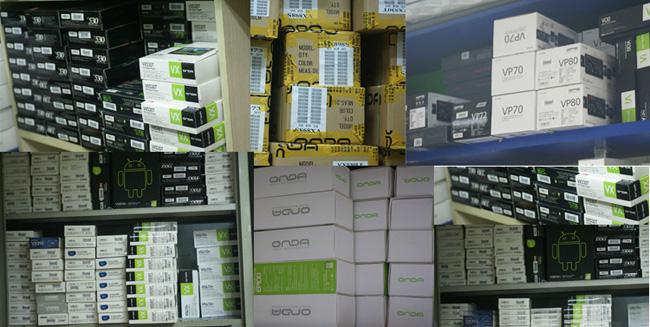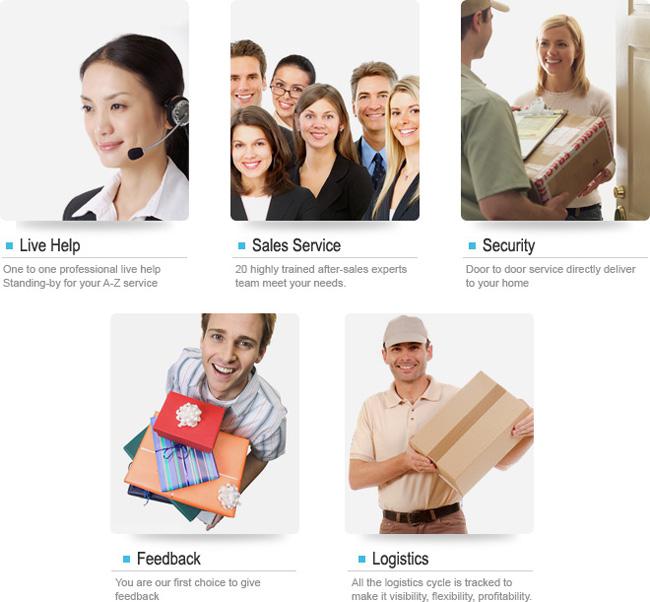 You may also be interested in the following product(s)
Regular Price: AU$236.23

Special Price: AU$195.94
Questions on PC Onda Vi30 Tablet All winner A10 1.5GHz Camera WIFI 3G HDMI 2160P 16GB
Sort by

From Irene at

7/18/12 8:35 AM

From Restu at

7/12/12 7:17 AM

From Thant Zin at

5/10/12 10:01 PM

-Vi30(SKU:21072) have only front camera? Not front & back?1.3Mp is which one?
-There have bluetooth function?
-What are the great differences in Vi30 & Vi40?
-Wrranty is for international or local?


Onda Tablet:
Onda Vi30 only have front camera.And do not support Bluetooth function.

The differences between Vi30 and Vi40 is the 8 inch and 9.7 inch.

All our Onda Products have 12 months warrenty.

From Phillip at

4/11/12 7:41 AM

Onda Vi40 Elite SKU:21075
wondering if this model plays side by side(3D) movies?
Can I use a net10 sim card on it?
Is it dual process?
How can I get a better discount off the price?
Onda Tablet:
Onda Vi40 support 3D movie and need 3D glasses.

This model do not have dual processor.

The default is 1GHz,and if you are very family with Android you are able to overlock to 1.5GHz safely.

Onda Vi40 do not support phone call.


From Phillip at

4/11/12 5:43 AM

Will the Vi30(SKU:21072) play 3D(side by side) movies on it or plugged into a 3D TV?
Does this or any of your tablets come unlocked?
Can I use a Net10phone (sim)card in this or any of your tablets?
Onda Tablet:
Vi30(SKU:21072) support play 3D (side by side) movies on it.

All our android tablets are unlocked.Now all onda tablets do not support sim call.
Ask Your Own Question
Customer Reviews
How much pixels Review by

Andrea

How much pixels per inch (ppi) have this model?
The resolution is the same that model VI10?

tks. (Posted on 4/17/12)

vi30 have a gps Review by

Nikolai

onda vi30 have a gps
------
No,Onda Vi30 do not support GPS,but you can use Google Maps from Google Play. (Posted on 4/16/12)

Vi30, Vi30w and Vi30 elite allow to play youtube Review by

Chris

Hi,

1) What is the different between IPS and LCD screen display?

2) Does these Vi30, Vi30w and Vi30 elite allow to play youtube?

3) Does these Vi30, Vi30w and Vi30 elite allow the hdmi cable to connect and display in the tv?

4) For this Vi30 elite, the cpu is 1Ghz or 1.5Ghz?

5) Among these 3 units, which are the best? Any recommendation?

Thanks. (Posted on 4/12/12)