Details
Onda Vi30w Tablet PC A10 8 inch Capacitive Touchscreen WIFI 3G HDMI 2160P 8GB All Winner A10 1.5GHz and Mali 400 HD 2160P WIFI 3G HDMI 2160P 8GB. (Onda Online Office Store only sell genuine Onda Vi30w Elite Tablet PC)

All our Onda Tablets are brand new electronics: absolutely no closeouts, used electronics, or counterfeits.All Onda products come with a 12 month warranty.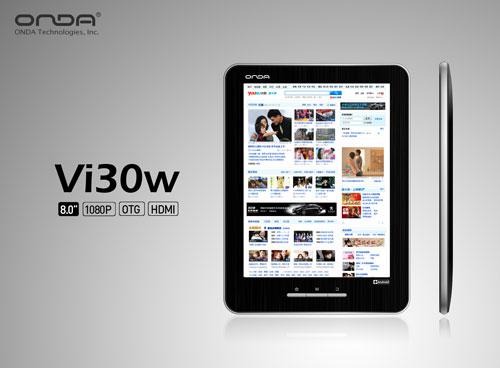 Onda Vi30w Tablet PC CPU Features:
OS: Google Android 4.0 Ice Cream Sandwich (ICS)
CPU: All Winner A10 1.5 GHz
GPU: Mali 400
RAM     512M,DDR3
Storage 8GB
Onda Vi30w Tablet PC Screen Information:
Screen: Capacitive Touchscreen, 800x600 IPS Screen
Size:   8 inch
Resolution:    800x600   Pixels
Gravity Sensor:   Yes
Onda Vi30w Tablet PC other Features:
Brand    Onda
MPN    Vi30W Deluxe
Video     2160P(3840*2160), H.264,VC-1,MPEG-2,MPEG4,XviD/DivX,Real 8\9\10,AVI,RM,RMVB,PMP,FLV,MP4,M4V,VOB,WMV,3GP,MKV
Music     MP1,MP2,MP3,WMA,OGG,APE,FLAC,WAV,AC3,AAC,AMR,DTS,RA,M4A
Ebook     TXT, PDF, HTML, RTF, FB2
Music around the state     About 7-8 hours
About the game mode     About 6 hours
1 x Language:Mutil language
1 x SD card (max 32G supported)
1 x Earphone (3.5 standard connector)
1 x 2.5mm Charge
1 x HDMI
Onda Vi30w Tablet PC includes:
1 x Onda Vi30w Tablet PC
1 x USB cable
1 x Charger
1 x Earphones
1 x OTG Cable
Onda Vi30w Tablet PC Weight:508g

Onda Vi30w Tablet PC Size:210x156x14.5mm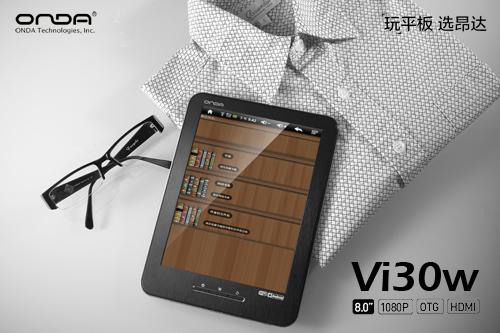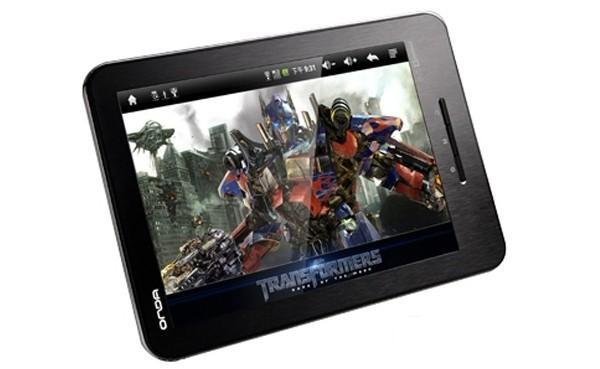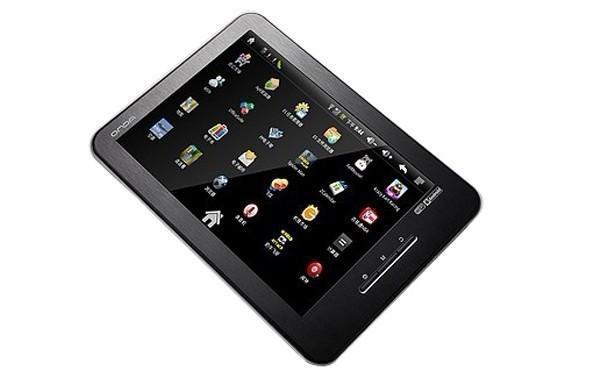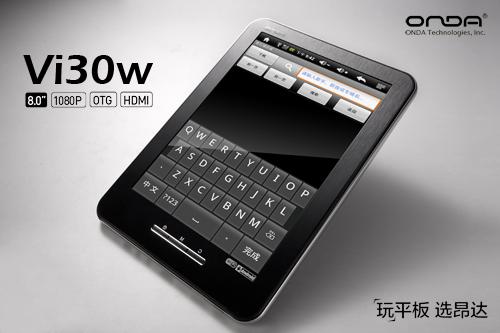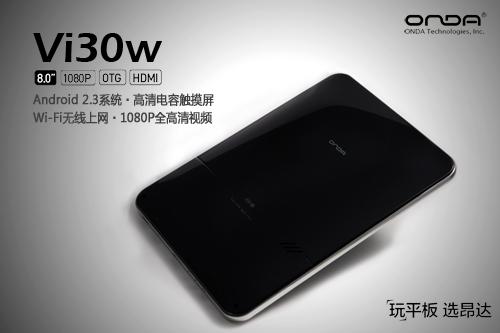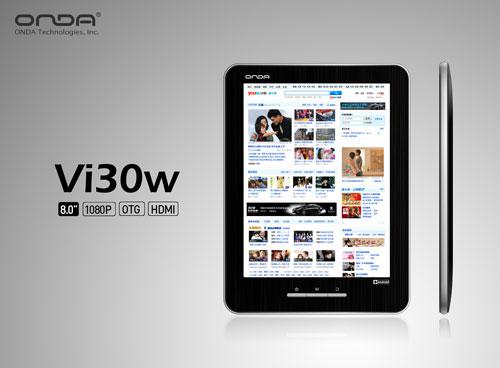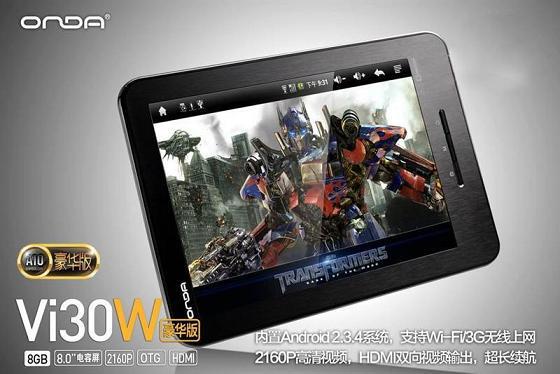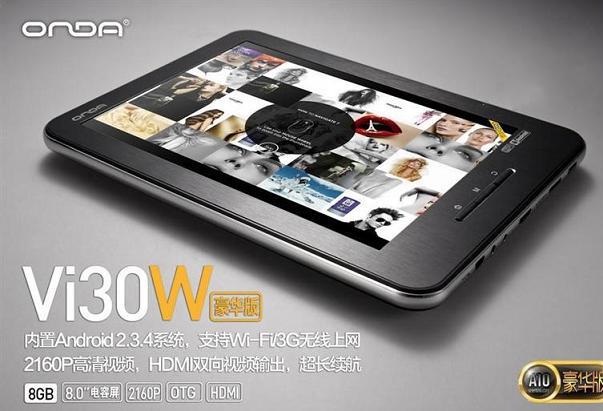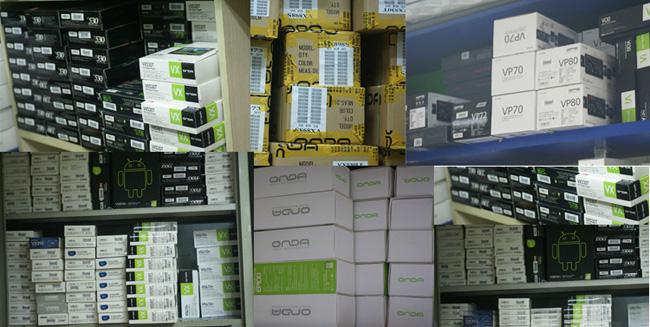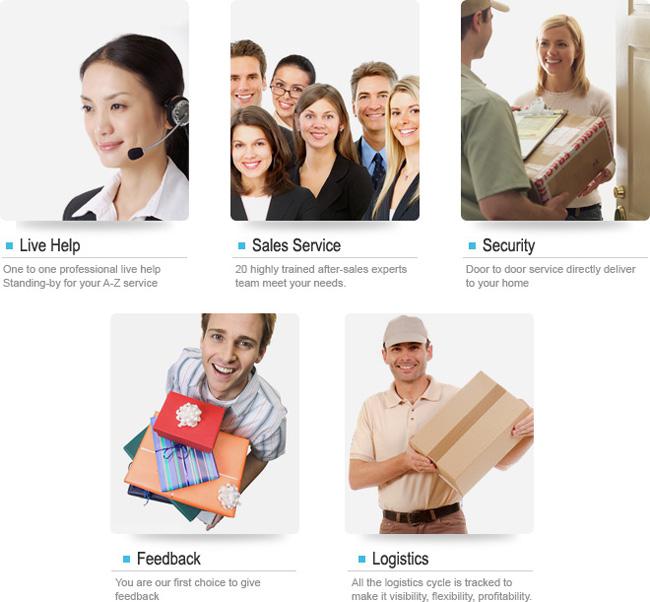 You may also be interested in the following product(s)
Regular Price: €195.84

Special Price: €162.44
Questions on Onda Vi30w Tablet PC A10 8 inch Capacitive Touchscreen WIFI 3G HDMI 2160P 8GB
Sort by

From Carlo at

8/26/12 1:40 PM

From isaac at

8/26/12 10:56 AM

From Arun at

7/3/12 12:01 AM

From Bob at

5/8/12 7:42 AM

From Char at

5/5/12 8:11 PM

From Frank at

5/1/12 3:30 AM

From Fishel at

4/11/12 8:46 PM

1. can i read hard disks the size of 120gb and play directly movies, music, pics etc. directly from the hard disk?
2.can i take pictures & video ?
3.can i conect HDMI to tv to watch stream ?
Onda Tablet:
We are not sure whether Onda Vi30w can read 120gb hard disk,but it can support size of 50gb-80gb.

Onda Vi30w have camera support take pictures & video.

Onda Vi30w support connect with HDMI output.

From Fishel at

4/11/12 5:07 PM

From Sam at

3/30/12 3:57 AM

From Chris at

3/27/12 9:52 PM

From chris at

3/27/12 5:28 PM

From Cesar at

3/19/12 7:06 AM

Is onda vi30w screen IPS (like vi40)? what are the differences between vi30 and vi30W?

Can you calculate shipping fees for one vi40 and one vi30w to Pacific Grove, CA, USA?

Thank you
Onda Tablet:
Onda vi30w use HD TFT Touch Screen,not IPS.The difference between vi30 and vi30w is screen.
Vi30 HD 1024×768 resolution
Vi30w HD 800×600 resolution

For shipping fees please check our system.
Choose Add to Cart=>Estimate Shipping and Tax (Enter your destination to get a shipping estimate) you will got your shipping fees.

Ask Your Own Question
Customer Reviews
I HAVE THIS TABLET Review by

INIGO

I HAVE THIS TABLET (V5) AND I WANT TO USE ANDROID MARKET. WAHT CAN I DO? (Posted on 4/16/12)

dual cameras Review by

Ted

The description says this is dual cameras. In the pics the one that shows the back, there is no camera. Are there dual cameras? (Posted on 4/16/12)

Do we get what we see as describe above? Review by

Merlin

Hi,

Do we get what we see as describe above?
Does it allow us play youtube?
Can the hdmi allow us to connect to TV?
If the unit is faulty during the warranty, what are the procedures? We have to send it back to your company in china?
Does it come with any screen protector?
Will the screen get scratches easily?

Thanks. (Posted on 4/12/12)